Get You A Husband Who Will Feed You Ice Cream When It's 98 Degrees Outside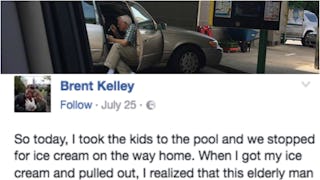 Image via Brent Kelly / Facebook
The internet is swooning over a photo of an elderly man feeding his wife ice cream
Love is kind of great no matter the circumstances surrounding it. And who better for all of us to learn about true love from than the people who have been at it for literal decades?
Here's a perfect case in point: Hundreds of thousands of people have liked and shared a Facebook photo of an older gentleman spoon-feeding his wife ice cream in a Sonic parking lot on a hot day.
The photo, snapped by 34-year-old pastor Brent Kelly, is tugging at heartstrings left and right, and it's pretty easy to see why.
"So today, I took the kids to the pool and we stopped for ice cream on the way home," Kelly wrote in his post. "When I got my ice cream and pulled out, I realized that this elderly man beside me was sitting out side his car door, spoon feeding his wife ice cream who also looked in her late eighties. He draped a towel over her and slowly fed his bride in the 98 degree temperature. It was a beautiful display of love."
If that's not proof that love is real, we're not sure what is. But it's not even the first time in recent months that seniors have taken us all to school and shown us what real, everlasting love looks like.
About a month ago, nine couples at a senior living center in Lexington, North Carolina, renewed their wedding vows — some of them after more than 50 years together. The day-long event brought the center staff — and the whole internet — to tears.
And earlier this year, photographer Paige Franklin shared a shoot she did with Ollie and Donald King in honor of their 68th wedding anniversary. In the photos, they kissed and held hands and looked like newlyweds, and good Lord, it's so beautiful.
"I hope and pray that my marriage lasts through time like theirs has," Franklin wrote at the time.
Yeah, us too.
As for the couple at Sonic sharing ice cream, Kelly had this to say in an interview with Today about the shot: "It was the perfect representation of what love is. It was unselfish."
We're not crying, you're crying.