Husband Hides Sweet Note To His Wife That's Not Uncovered Until After His Unexpected Death
by Valerie Williams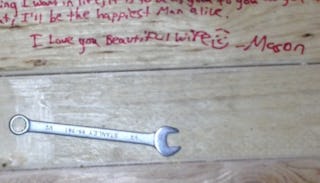 Wife finds surprise love note from her husband after he dies
The unexpected or untimely death of a spouse is devastating for obvious reasons. Having the person you love most ripped from your life without warning would be enough to traumatize anyone, and finding comfort afterward is undoubtedly difficult. A recently widowed woman was fortunate enough to find solace after the unexpected death of her husband — and amazingly, he was the one to give it to her.
Imgur user ButAnywayHeresWonderwall shared one of the most touching photos the internet has ever seen. Yes, I'm giving myself the power to declare that. Moving on.
He writes that his father passed away on February 26th, having suffered a ruptured artery. He was only 51. The son writes, "I found a note from my dad to my mom while dismantling her old workbench."
Here it is, in all its tear-inducing glory.
The note is written on the underside of a workbench his father made for his mother to use while she worked on metal engraving projects. He wrote it probably never knowing if his wife would see it, but from his words, you know that didn't matter to him. He wrote it because he meant it and wanted to say it. Her finding it, especially after his death, was just a beautiful bonus.
The text reads, "I love you Becca. Whatever day this is, I hope it's a good one. God truly answered my prayers the day he gave me you. I know that these days are the best I'll ever have, and I'm glad you're in them. I'm not sure if you'll ever see this, but if you do, just know that I love you very much. If there is one thing want in life, it is to be as good to you as you are to me. If I can do that, I'll be the happiest man alive. I love you, beautiful wife- Mason"
Sobbing yet?
The note clearly touched a chord with Imgur users, as it's now at well over a million views. Many left comments about their own parents' marriage and how inspired they are by their love. Some shared stories of losing a parent and wishing they'd found something this lovely to remember them by. The son later responded thanking everyone for their support and insisting he didn't need anything saying, "I only ask that you love one another so there can be peace. Leave the world better than you found it."
It looks as though these loving parents have raised a loving son who learned by his father's example. This story is so bittersweet — a wife losing her husband long before she should have to and a son losing his father — but this man left behind an inspiring legacy of love. His family is no doubt grieving his loss, but finding this note when they did must have been incredibly comforting. It's like he made sure they knew that even though he was gone, his love will always be there.