My Husband Is Sexier Now Than When We Met, And Here's Why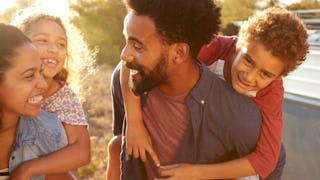 monkeybusinessimages/Getty
When I met my husband nearly 15 years ago, we were in our early twenties. Gravity and metabolism were still very much on our side. We stayed up too late, drank too much, and ate Taco Bell at 3 a.m. like it was our job. I won't lie, when we first met, it was his blue eyes and dimples that got my attention. He was so handsome I couldn't stand it, and much to my delight, he turned out to be the total package. Sexy, smart, and hilarious. SWOON.
So obviously, I married him.
Now, many years and children later, it appears gravity and time are no-longer on our side. In fact, they have abandoned us altogether. If I had to guess, the screaming children and lack of sleep drove them away. Our waistlines aren't as forgiving as they once were, and we are firmly rocking "the bods." You know the ones I'm talking about—the mom-bod and dad-bod. We are a matching set. And while we may not have the same physical appearance we did when we were younger, I find my hubby even hotter than the day we met.
I know I said he was the total package back in the day, but I was wrong. I can say now, with full confidence, my husband is definitely the total package, because he is sexy, smart, hilarious, and the most amazing dad on the planet. Maybe this is the 30-something woman in me talking, but there is just nothing sexier than a good dad. I don't care what his abs look like, or how pretty his dimples are, watching him with our kids just does it for me.
Because here's the thing about aging: unless you're Cher, looks fade. I don't look like I did in my twenties, and I don't expect my husband to either. Physical attraction is great, but I'm wildly attracted to the way he makes me feel and the way he treats my babies.
I know how fortunate I am to be married to a man who is such a devoted and engaged father. Fatherhood has evolved significantly over the past few decades, and my man has certainly stepped up to the plate. We are true partners. He is my equal, and there's no part of parenthood that is beyond his scope of practice — even issues involving poop.
My husband is strong, sensitive, and patient. He is right beside me in the trenches through every meltdown and bullshit stage of childhood, whether he's reading a bedtime story or elbow deep in code brown diaper situation. He shows our children how men should behave with his every action, and he teaches them to stand up for themselves and to advocate for what is right. He is empathetic, kind, and loyal, and when he is wrong, he apologizes.
There is nothing else I could ask for, or want. He puts all my childhood fairy tales to shame, and I find him undeniably sexy. Odds are, I always will, because I see the way our kids adore him, and how much they respect him. I see the way he treats us, and supports us, and I just can't help it—there's just nothing hotter than a good dad.
This article was originally published on