This Mall Has A Husband Nursery So You Can Finally Shop In Peace
by Jerriann Sullivan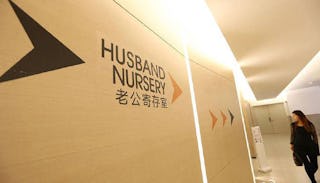 Image via Weibo.
Husband nursery should be a mandatory mall requirement
Husbands, am I right? Can't live with them. Definitely can't shop with them, which is why some genius created a husband nursery inside a mall.
The Vanke mall in Shanghai just launched its "husband nursery" over the weekend, and the internet is loving the brilliant solution to many a married couples' fights. Don't you hate it when your husband follows you around stores saying "you don't need that" over and over again? Me too. If we lived in China, we could ditch our significant others and mull over that wrap dress or (insert thing you're pining over here) in peace. Plus, you don't have to worry about your hubby being entertained while you're browsing boutiques because his new favorite place has plenty of amenities.
There are tables and chairs so your partner can eat a meal or read a book comfortably. There's also a TV and fridge. And one lucky dude who shows up early enough can snag the massage chair. From the photos we've seen the holding pen for husbands looks pretty sparsely decorated so perhaps additional items will be added. If you loathe shopping, though, a nice chair and your phone are really all you need to wait out your wife's excursion. So the whole husband nursery isn't as elaborate as its American counterpart, the man cave, but for people that hate shopping it has more than enough stuff.
The name seems a bit off, too, considering our husbands aren't technically children (even when they act like it) and therefore don't need a nursery. In Chinese the name better translates to "husband storage room," Mashable reported. Pictures of the husband hangout room hit Weibo, China's version of Twitter, and received mostly praise with one woman asking, "Is there a wife nursery? I don't like shopping." There doesn't appear to be one in the works, but we're sure the husbands who were dropped off wouldn't mind sharing their new favorite place with some equally bored wives.
Don't expect to see too many ladies there, though. Science shows us that on average men become bored with shopping after only 26 minutes. Not even a half hour and they're done. Maybe in my absolute worst mood I'd get bored with shopping in that time, but probably not. On average it takes women a full two hours before they're bored with the whole consumer experience, according to Psychology Today. The outlet also reported "that 80 percent of men didn't like shopping with their partners, and that 45 percent avoiding doing so at all costs."
So it makes total sense to have a spot for the fellows who clearly don't want to shop with us. If you've got a whole day planned but do need to stop at the mall you drop off your adoring husband and pick him back up without having a fight in the towel section of Dillard's. The husband nursery is arguably the best shopping trend since online storefronts took over our lives. We say add some beer and wine and it'll be a perfect additional to American malls.
[free_ebook]