Husband's Sweet Way Of Keeping His Sick Wife Company Is Melting The Internet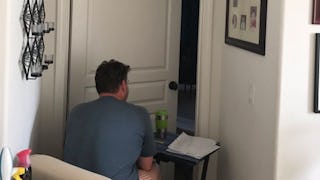 Image via Twitter
Radiation treatments mean his wife needs to be isolated, but he still found a way to be with her
When young couples marry and repeat the words "in sickness and in health," it's hard to imagine what that could one day entail. That's why this viral photo of a husband sticking by his wife however he can throughout her cancer treatments is absolutely slaying the internet.
According to BuzzFeed, Mackenna Newman tweeted a photo of her dad staying by her sick mom's side in the only way he could while she was in isolation post-radiation treatment. Jon wanted to be near his wife, Marci, who was diagnosed with thyroid cancer last October, even though it was medically necessary that she be alone.
So he found the sweetest workaround.
Mackenna shared the photo with the caption, "My mom has to stay in her room in isolation for her cancer radiation so my dad set up a desk at her door to keep her company and I'm crying."
So are we, Mackenna. This image is beautiful and heartbreaking, all at once. It's love. It's marriage. It's being there for the highest of highs, and the lowest of lows. This is the kind of thing couples need to think about before tying the knot, because the good times aren't what define the strength of a marriage — it's the times where things are awful and scary that a couple's love is tested.
And these two pass with flying colors.
The tweet is full of responses from those in awe of the couple's love and hoping for the same kind of relationship in their own life. It's clear the image has struck a chord.
Mackenna says, "I just thought it was sweet because they are so in love." Marci echoes her daughter, confirming the couple's close relationship. "Jon goes to every doctor's appointment, every blood test, every surgery, every radiation. And, as you can see, if he can't be by my side he is as close as he can get!"
Of course, the bond between Jon and Marci is a story all its own, but let's take a moment to appreciate what their teen daughter is seeing in her parents. A living example of what love and devotion really look like. It's giving her a blueprint for her own future relationships as well as the secure knowledge that her parents deeply love each other, no matter what. Sometimes, it's the worst trials in life that give us our best qualities. Seeing her parents dealing with Marci's illness in such a loving way is undoubtedly making an impression, based on her emotional tweet.
This family is nailing it from all sides, and we hope Marci's recovery is swift so they can get back to the good times as soon as possible.