Ask Scary Mommy: How Do I Get My Husband To Do More With Virtual Schoolwork?
by Cassandra Stone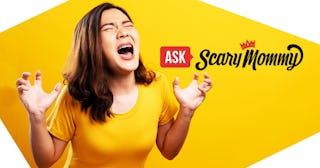 Teeramet Thanomkiat/EyeEm/Getty
Ask Scary Mommy is Scary Mommy's advice column, where our team of "experts" answers all the questions you have about life, love, body image, friends, parenting, and anything else that's confusing you.
This week… What do you do when your husband, great as he is, totally slacks on virtual schoolwork and sharing the duties with it? How do you get them to step up? Have your own questions? Email advice@scarymommy.com
Dear Scary Mommy,
My husband and I have three kids — 9, 7, and 5 — and they're all in school virtually this year. We made the decision to keep them home because we're both working from home indefinitely, and we're able to oversee their schoolwork and be with them while also trying to work. We knew it wouldn't be easy at all, but we felt it was safest and best for us. Cut to three weeks into the school year, and my husband isn't exactly pulling his fair share. It's falling on me — I'm the first one they turn to for help with school work, I'm the one making meals, cleaning up throughout the day, and washing clothes, etc. All while trying to manage my own full-time job while my husband sits in the dining room with headphones on. He does have a far more "conference call-y" job than I do, and he has to be logged into a program all day and cannot take breaks as easily as I can. BUT STILL, I'M FLOUNDERING HERE. How can we do this equally? Can we?
The Mom Burden is real, and it's burning moms out at, like, three times the speed this year. So even though you're far from alone, this is also far from okay. I can't speak for your husband's employer, of course, but it's probably safe to assume they expect that everyone — parents or not — can keep up the same level of productivity as they did pre-pandemic. Even though we're — surprise! — in the middle of a global death plague and we're not supposed to be working from home with our children in our faces 24/7 while also trying to keep up their pre-pandemic school schedule from home. Ah, capitalism!
Even though the American workforce mentality isn't going to change anytime soon (if a pandemic isn't changing it much, who knows what would), it's still a damn mess. All of it. For mostly everyone. And I'm so sorry you're feeling it too. So let's try some tactics to get your husband to step up.
Just because your job is more flexible does not mean you must shoulder the daytime responsibilities solo. And it's very interesting to me that with this new dynamic, all the menfolk seem to have the "uninterruptible" jobs and non-men do not. Very interesting. Employers tend to not allot their male employees time for parenting, and men are also very used to being enabled into that dynamic. Same with schools (another reason to love RBG is that she let her kids' school know they have a father, too). So let's cut the sh*t where we can, huh?
I assume he's entitled to breaks? Well, those breaks can be used to multi-task — grabbing a snack for himself and the kids. Maybe he doesn't truly have time to do much with regard to schooling throughout the day. He can still be useful. He can throw a load of clothes in the washer after using the facilities. Checking in with each kid and seeing how he can meet their needs in a span of 10 minutes. Lunch breaks? Same deal. He can take them outside for some "recess." He can throw dinner in the crockpot. Maybe he can schedule those lunch breaks along with yours or stagger his at another time to give you an hour to work completely uninterrupted and he can play teacher.
When the work/school day is done, he can be the one supervising homework while you do whatever it is you want or need to do that isn't schoolwork-related. He can check papers, organize the day's work while prepping for tomorrow. He can communicate with teachers if necessary. He can give you the space and time you need to tie up any tasks you still have remaining.
Keep a dry-erase board in the kitchen and write down things you hope to accomplish each day (it can be anything from "wipe down the toothpaste-y bathroom counters" to "double check math homework). That list will be in the face of everyone who lives in the house. Everyone can pitch in to get those things done throughout the day.
Keep the lines of communication open, so that when you're floundering, he knows it and uses his adult brain to figure out ways to stop actively contributing to the problem. Therapy isn't easy to do right now (TeleHealth just isn't the same, but it's better than nothing — I can personally vouch for that) and not everyone can afford it, but if you can, make time for it. For yourself, for both of you, for each of you individually — give it a try if you're able.
Good luck, and remember: you're not alone. We're all holding your hand and holding our heads above water together.