Husband And Wife Fighting Over Eyedrops Is Every Marriage Ever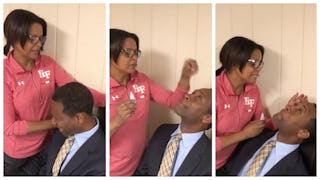 Image via Lauren Parker/Twitter
This viral Twitter video of a husband and wife fighting over eye drops is pure gold
If you're looking for something fun online, here is a truly hilarious video of a husband and wife fighting over eye drops — it's literally here to save the day. Seriously, prepare to not stop beaming for one minute and twenty-three seconds.
Lauren Parker took to Twitter to share a video of her mom trying to get drops into her dad's eyes. The whole operation is wildly unsuccessful but, damn, did mom try her very best.
"My dad is a 50 year old man who can't put in eye drops, and had to get my mom to do it for him," Parker wrote. "This is why I love my parents so much, and no, he never got them in."
There are so, so, so many gems throughout this video. Every time he squirms away. Every time she tells him to stop opening his mouth. That moment when she demonstrates putting the eye drops in her own eye and he says, "oh my God," with such complete wonder. That other moment when the rest of the family brags that they, too, can put eye drops in their own eyes. Husbands can seriously act like one of the kids sometimes, amirite?
The crowning jewel of the whole thing? When Lauren's dad says that the whole process is too painful and Lauren's mom responds: "I've had three babies. It's not painful."
If you're currently completely charmed by this entire family, you're not alone. The video has since been viewed more than 1 million times, pulled in nearly 95,000 likes, and 30,000 retweets. Comments poured in from new fans of the whole Parker family.
Some people were loving Lauren's mom's take charge attitude.
https://twitter.com/jetpack/status/1005231881900748800
Others were busy laughing at Lauren's dad's panicked reaction (and also the fact that he DEFINITELY DEFINITELY does not look 50).
https://twitter.com/jetpack/status/1005255751043076096
And a whole bunch of other people couldn't get over what a cute, sweet couple those two are. I mean, putting eyedrops in someone's eyes when they're terrified is no easy task and requires a whole lot of love. I've been on the receiving end of this scenario multiple times and I'm sure that I am truly a pain in the neck.
Hopefully, Papa Parker eventually got those drops in his eyes. If not, fingers crossed for a sequel.