Husbands Sweet Gesture Goes Viral Because It's Marriage In A Nutshell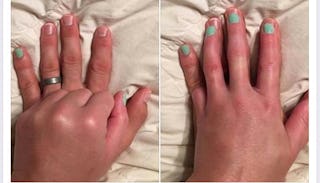 A husband offered to keep his own pinky painted as a stand-in for his wife's missing finger
A man painting his nails is no big deal, but one picture of a husband's painted pinky is going viral for a very good reason.
Libby Sanders had her top portion of her left pinky amputated after a freak accident with a screen door earlier this year. The other night while painting her nails a particularly cute shade of mint green she commented to her husband that she forgets she doesn't have to paint her pinky. Plenty of husbands would have been focused on the television or their phone while their wife painted her nails, but Matt Sanders not only heard what his wife was saying, he offered a solution. He told Libby he'd be her stand-in pinkie, and let her paint his nail to match hers.
They posted pictures of their hands on Facebook, where they quickly gathered steam, because #relationshipgoals.
"I simply forget that I lost my pinky, but it is always kind of a bummer when I am reminded." She wrote. "Matt said 'I will be your surrogate pinky. You can paint my pinky to match your nails for the rest of our lives'. And so we did…." She went on to say, "I cannot image a sweeter, kinder man. No words adequately describe our love."
The photo has been shared 118,000 times and counting. As their tale of the most romantic manicure ever has started to spread across the internet, Libby's happy that her husband is being recognized for being so awesome. "Again, so so unreal. I'm happy Matt is getting the props he deserves," she posted.
It's always nice to see a husband step up and do something kind for his wife, and the Sanders' painted pinky is a perfect example of how it's the small, inexpensive things that really make a relationship's most special moments.
As a person who's spouse is also missing part of a finger, this image really hit me in the feels. A few years ago my husband lost the top portion of his middle finger after a freak accident while we were on vacation (Trust me, Grand Cayman is much less romantic when you spend a week stuck in the hospital instead of on the beach). Like the Sanders, we've reached the point where we sometimes forget that he's missing part of his finger, but for the first year or so after the accident it hurt me to see how self-conscious he was over his hand and the resulting scars. He would often keep his hand in his pocket when we were in public because he didn't want to draw attention to his finger, or lack thereof.
Even now when I look at his hand my stomach flips as I remember how scary the accident was. If there was something I could do to make him feel better, I would, no matter how curious it might look to strangers passing by.
Libby tells Scary Mommy that she plans to hold her husband to his word and keep the weekly nail painting tradition going. "Yes, my husband will be a 60-year-old man with a hot pink (or whatever color I feel that day) pinky!"
This article was originally published on