I Tried The TikTok Trick Of Using Hyaluronic Acid In My Dry Hair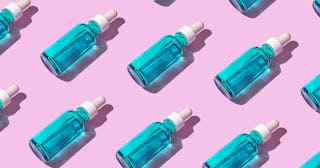 Fiordaliso/Getty
I have fine hair that is both curly and straight; I guess you could say it depends on the strand. I have sections that are ringlets and sections that are poker straight, and the rest of my head decides to frizz out on me whenever possible.
It's fine hair, so a lot of products don't work for me. If I try to tame the frizz with elixirs or serums, I have to be very careful because before I know it my strands are overloaded, weighed down, and can look greasy.
It's also very fragile. Since puberty, my ends turn to hay if I put too much heat to them or don't cover my hair in the sun. If I blow dry or curl it too much, it gets damaged quickly. I have to trim and condition often, yet I can't condition it with anything too heavy; it has to be just right.
I wish I was one of those wash and go girls, but I'm not. If I don't add a little something and find a way to smooth my hair while it's drying, I am left with a traffic cone-shaped, Brillo pad hairstyle.
Frizzy-haired people of the world feel my pain. Our hair is high-maintenance, and we hate it.
So when my daughter sent me this trick she saw on TikTok about putting hyaluronic acid in your hair at night to help with damaged hair, I couldn't wait to try it. After all, hyaluronic acid does amazing things for my face — it might do the same for my hair.
I was worried for a moment that it might weigh my locks down or that my tresses would look like I'd taken to a trip through a McDonald's deep fryer if I put it in my hair, but then I realized hyaluronic acid doesn't make my face look or feel greasy and soaks in nicely.
A good test for me and my hair is if I hold onto a clump of it a few inches from the ends, it usually will stand straight out like a bunch of straw. It's very rare that it will fall down if I hold it up (like everyone else's seems to).
I figured that would be the test for my ends: If after a few nights of using the acid, my hair was able to relax on the ends instead of looking stiff and petrified, it must be working.
I have hyaluronic acid that I use on my face, so instead of going out and buying more, or trying to find something specially made for hair, I simply put a bit more in my hands at night, applied it to my face after I washed, then ran the rest through the lower half of my hair.
By the time my head hit my pillow a few minutes after I was done with my nighttime routine, it was all absorbed, so there was no mess on the pillowcase.
Here are some things I noticed:
My hair was a lot thicker on the ends. You could always see how my hair was thinner and more damaged on the ends, but this gave my ends bulk and made them look stronger.
My hair felt great and so soft after a few nights, and there was no greasy residue. I thought I may have to wash my hair more often, but I don't.
The point of adding the hyaluronic acid to your hair isn't to douse it with the serum, but you do want to coat the bottom half of your hair enough to make a difference. This depends on how much hair you have, of course — so if you try this, play around with your amounts, starting out small and increasing how much you use. Obviously, if your hair can handle it, you can put it higher up on your head, but I'd avoid your scalp unless you're planning on washing your hair in the near future.
When I used to blow dry my hair, I would notice little tiny hairs all over the bathroom floor from breakage. I can honestly say after two weeks those hairs are almost nonexistent. At first I thought this might be a coincidence, but my white floors and sink do not lie.
My hair feels amazing. The ends no longer feel dry, even after I do waves with my flat iron or straighten it.
Some hyaluronic acid serums can be a bit pricey, but I have to say, I've tried some really expensive treatments in my day to try and tame my frizz and keep my hair looking healthy, and this is by far the treatment that has worked the best. If you have fine or thin hair, you hardly need any. And since it's become more of a mainstream ingredient, it's easy to find good serums that won't break the bank, like this one from The Inkey List, or or this one from The Ordinary.
Of course for thick hair I know you will need more, but I think if you try it, you'll see it's worth it. Not to mention, you'll be more than happy to simplify your routine and ditch all the other hair products you may be buying.
I still love doing a hair mask once a week, but now, instead of my hair only looking healthy on the day I do the mask, the results last all week.
I also color my hair every four weeks (religiously) because I have a lot of gray and this hasn't done anything to change the color.
The below picture is my hair after using hyaluronic acid in my hair each night for about three weeks. It passed the "ends test" and fell nicely instead of sticking straight out like a dry bunch of wheat.
If you use hyaluronic acid on your face, I challenge you to run some through your hair tonight. It only takes a second and you will probably see results the next day like I did.
I really noticed the biggest change after a full week, so stick with it.
If there's a product out there that can do double duty for my face and hair with these results, I'm in — and believe me, after trying this, you will be too.
This article was originally published on