Reliving My 10-Year-Old Summer With My Childhood Best Friend
by Stephanie Gates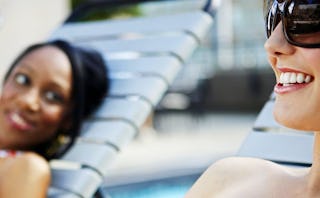 I scan the crowd, looking for my childhood best friend. We're at the cheap theater, and the movie is about to start. I take stock of the lobby until I see her, and we both wave and hurry toward the other. "Are you getting popcorn?" I ask right away.
"No," she says, "I snuck my own candy." I giggle and reply, "Me too!" Once again I think, I can't believe we get to do this.
I'm reliving the summer I had when I was 10. Cheap movies and contraband candy bars are just the beginning. My friend and I also go swimming every week. We spread our collective peanut butter, watermelon and root beer around the table, and we stay by the pool until our fingers get pruned and our shoulders turn pink. Only, we aren't 10 anymore. We're both in our late 30s. Unexpectedly, we've found ourselves in the same city this summer, 1,400 miles from our hometown. And we're having a great time together.
Thirty years ago, we lived on the same street in a small town in the Deep South. During elementary school, we rode bikes every afternoon, took turns hosting sleepovers, shared a seat on the school bus, and babysat for the same families. In junior high, her family moved to a new house, and by the end of high school, we'd drifted into different circles. I still hugged her every time we saw each other, but after graduation, we didn't keep in touch. This was before social media, so our moms were our best source of gossip. Her mom came to my wedding shower and reported how my friend had just gotten married herself and moved to Colorado. "They just put a pin in a map!" she exclaimed. Secretly I was a little jealous. She'd beat me out of our small town.
Then, a few years ago, my husband and I did essentially the same. We set our sights on Denver, cashed out our assets, packed up all the plastic crap that means so much to our kids, and moved our family across the country. A year or so later, I had a Facebook message from my old friend. "We're moving to Denver soon!" she said. "Want to get coffee?"
Six months later, we're spending our summer doing all of the same things we loved decades ago. Only now we do them as grown-ups and parents. My kids are getting to know her kids, and I have the rare privilege of saying to her daughter, "Your mom did the same thing at your age!" My friend and I are getting to know one another again too, the adult versions of us. It turns out I like the grown-up version of my friend just as well as I liked the kid.
Just like childhood summers, this season won't last forever. Though Denver is my home, it likely won't be hers. By next year at this time, she could be in a new city again. Knowing that it is fleeting makes our time together that much sweeter. I get to do something most people only dream of doing. I get to relive my 10-year-old summer with my childhood best friend.
This article was originally published on