I Have Postpartum Depression, And It's Going To Be OK
by Ellie Hoffman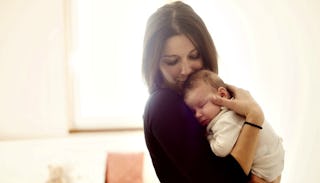 Halfpoint / Shutterstock
When I found out I was pregnant, the first thing I did was tell my husband. The second thing I did was make an appointment with a social worker I had seen during my time in graduate school, because I was at high risk for postpartum depression and anxiety.
I had previously accepted that depression and anxiety were going to be a constant force that I would need to manage in my life. I went through periods of remission, and also periods of relapse, about which I had become somewhat zen. My motto was that, during a relapse, I gave myself permission to trim my to-do lists. I let myself spend a little more time on self-care. I made sure not to blame myself for the relapse. It wasn't a personal failing any more than a flare-up of Crohn's disease or diabetes is a personal failing. Being kind to myself helped me keep my life on the rails.
However, I felt different about the possibility of PPD during my pregnancy. I learned about most things through reading, and the only materials I could find were studies showing negative developmental effects on the baby and news articles about women who hurt or endangered their babies. I was afraid that I would not bond with my baby, that I would struggle to care for her, that I couldn't be a competent parent.
Now, my baby is 9 months old, and yes, I am living with postpartum depression and anxiety, just as I had assumed I would. However, it isn't necessarily the life-ruining, baby-stunting, unstoppable force that I feared. Just like any other bout of depression, it can be managed. In that spirit, I give myself permission to have PPD. I give myself permission to:
1. Trust My Baby
An experienced nurse in the postnatal ward gave me that pithy advice after what must have been my 10th trip to the nursing station with my daughter in tow. She was born in respiratory distress, so I panicked every single time she coughed, sneezed or hiccuped. The panic kicked into high gear especially once she was discharged from the NICU and allowed to stay in my hospital room. The nurse told me, "Trust your baby. Look at your baby's face and body language. If she looks fine, then she's fine." Babies aren't known for stoicism, after all.
2. Take Time To Bond
It took time for us to get to know each other, post-birth. We knew each other for eight months in the womb, but that is very different from being two separately embodied people. It's OK that there is an adjustment period. We had to reacquaint ourselves and learn this new relationship to each other. We had to learn how to snuggle, how to listen, how to eat together, how to hopefully nap together, and how to change diaper after diaper. That is a really good start. A lot of bonding is just repetition of basic care tasks to teach your baby that their needs will be met.
3. Stop Midnight Googling (and Talk to Nurses Instead)
There was a night when my anxiety convinced me that my baby had hip dysplasia because her leg rolls weren't exactly even. There was a night when I was convinced she had a sinus infection because she had a spot of bruising on the tip of her nose. There was a night where I became irrationally preoccupied with polio. I had to learn to put down the phone and stop Googling things at midnight. It really doesn't help. Instead, I called my baby's doctor or the all-hours health line. Once, I called the health line at 11 p.m. to ask a nurse whether crawling in a wet diaper was any kind of health risk. She didn't even laugh at me. She told me that most calls are from new parents, and I felt much better.
4. Accept Help From Friends
My depression and anxiety tried to convince me to be embarrassed and to push other people away. I'm glad I didn't give in. The offer of help around my apartment was invaluable for the first few weeks, when I was so busy nursing and diaper-changing around the clock that I was lucky to be able to wash a dish, let alone find time to clean the cat box and sweep the floors. The offer of social time was also integral to my functioning. I can't go everywhere that I used to, but good friends meet me more than halfway. My friends helped me tidy my apartment, and now they help me get out of it. They even hold my baby sometimes while we're out. Priceless!
5. Keep the Long View
I am tired pretty much all the time to varying degrees. I have very little appetite some days. On the worst days, I have to give myself a pep talk to even get out of bed and face the day. However, I also remind myself to keep the long view. My daughter gets a full day of playing (with me, with toys, with food, with my glasses) and naps. She laughs a lot. She babbles with the best of them. Her favorite instrument is the banjo and her favorite book is a rhyming board book about an elephant named Trumpety Humpety.
My daughter will hopefully live to be one 102 years old. She won't remember much about the details of these early years, so all I have to do is get us through this with as much love, humor and patience—for both her and myself—as I can possibly muster to counter the darkness.
I am glad that I didn't let my fear of PPD and anxiety stop me from becoming a parent to my wonderful daughter because postpartum depression will pass, but our love for each other will not. I am in treatment, and we will be OK!