Some People Long To Go Away On Vacation, But I Prefer A Staycation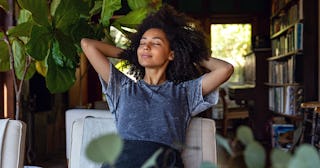 LeoPatrizi/Getty
I haven't gone away on a trip for quite a while — I'm talking a few years before COVID hit. When I was married to my ex-husband, we'd go away on trips all the time. There was one summer when we went to the lake and stayed every weekend, and went away for a week over the fourth of July.
I've never felt as wrecked as I did that summer.
However, now that I'm single and I call the shots, I get to go nowhere on vacation because that's what my soul desires, and more importantly, needs.
I'm taking next week off and I'm looking forward to nothingness. I can't wait to read. I can't wait to be in my house without a million things to check off my to-do list. I can't wait to not answer emails. I can't wait to be away from my phone. I can't wait to have time to make it through more than one Netflix show.
Maybe it's because I'm a homebody. Probably being an introvert has something to do with it as well.
Or maybe it has more to do with the fact we all know moms carry the burden of the vacation planning, preparations, packing, and making sure everyone has what they need at all times so they can try and catch a few breaths amongst all the chaos.
I realize staying home instead of booking a cruise, or exploring Nashville, or camping (please God, no) sounds boring to some. I also know that deep longing to get away is real. I mean, I don't have it but I've heard people talk about it, and it sounds just as strong as my need to stay at home and do nothing, so I kind of get it.
As I wrap up work, I can't even think about packing on top of it. I don't have time to book or plan a vacation much less get my oil changed.
But I also know myself — a true vacation to me means I have to completely unwind. I have to read. I need quiet. I need lots of sleep. I need to play catch-up mentally.
I simply can't do this by going away, because going away takes so much planning and you feel like you have to see the sights and fit it all in. Then you come home and have bushels of laundry to do, have to pick up the dog from the sitters, catch up on the bills you didn't pay, and mentally prepare for the work week ahead.
The phrase, "I need a vacation from my vacation" was penned for a reason. Because it's so damn true, it hurts.
I can also reflect back to my pre-kid days when I'd go away for vacation and I never felt revived. The only thing I wanted was my bed for an entire week.
I've traveled when I was pregnant, with my kids when they were small, with my kids when they were big, without my kids after my divorce, and every time, I think, I'd rather stay home.
Now, if I could cushion a week away with two mini-vacations of staying home (the week before and after), maybe I'd be more apt to want to get away from it all. However, we all know that's almost never possible, so my choice is always crystal clear to me: A staycation it is.
What a vacation feels like to me is a lot of overstimulation which wears on me by day two, and never enough time for my brain to refuel.
I get grumpy, overtired, and moms are the ones who are trying to manage everyone else's mood while away so we can all have a good time, dammit.
I get sick of managing the day, and my mind can't handle it.
I've struggled with this for a while. It's clearly who I am. On our honeymoon, we ended up coming home after a week instead of ten days we'd planned because I was so tapped out and the thought of returning home and then getting right back into regular life was too much for me.
So, while you are out snorkeling, looking at turquoise water, skiing the slopes, or trying out ostrich eggs for the first time, I'd rather be home.
That's the thing about those of us who prefer a staycation. We don't feel like we are missing out on anything, because we know that staying put is the only way we can truly relax.
This article was originally published on