Military Base Orders Pizza Then Calls ICE On Delivery Man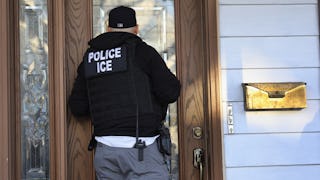 Image via John Moore/Getty Images
A soldier in Brooklyn turned a pizza delivery man over to ICE, and it's just as despicable as you would imagine
Pizza delivery man Pablo Villavicencio was detained by Immigration and Customs Enforcement (ICE) officers on Friday after attempting to deliver a pizza to a military base in New York City. The married father of two is currently in a Manhattan immigration jail, according to his wife, Sandra Chica.
First reported by New York City news outlet El Diario and then picked up by The Hill, Chica said that during a normal delivery, a guard at Fort Hamilton in Brooklyn asked Villavicencio for an ID and then had him arrested by ICE agents. Villavicencio called her from a detention center to tell her what had happened.
"As usual, he went to the military base to deliver a pizza order. But this time, the guard — whom he identified as African American — asked him for a valid identification document, and since he didn't have one, the soldier called immigration to arrest him," Chica told El Diario in an interview.
Chica is an American citizen, and explained that she and her husband, an Ecuadorian immigrant, had started his paperwork for legal residency in February. They have been married for five years and have two young daughters together.
"There aren't any words that can define the drama that my daughters and I are living," Chica said. "From one moment to the next, life changed for us and all I ask for now is for them to not deport my husband, to give him an opportunity."
Villavicencio told his wife he fears deportation and an extended separation from his family — all because someone turned him in while he was trying to do his job and support his family.
Brooklyn Borough President Eric L. Adams and City Council Member Justin Brannan, both of whom represent Fort Hamilton, are expected to make statements about the case today. At the same time, activists around the city are calling for answers in yet another heartbreaking and wholly unnecessary deportation case.
Councilman Carlos Menchaca, the chair of the Immigration Committee of the City Council, told El Diario about his outrage over this newest ICE case:
"The arrest of Pablo Villavicencio at the Fort Hamilton military base is scandalous, cruel and useless," he said. "Now, a hardworking New Yorker who does his job faces all the dangers of detention and deportation by ICE. Mr. Villavicencio, who has an active green card application, and whose wife and children are all citizens of the United States, deserves his freedom and to live and work in peace while his application is pending. "
Chica has now launched a GoFundMe page that asks for support through their difficult time — as of this writing, it has raised about 10 percent of its $20,000 goal.
"We are alone in this country, [w]e have two daughters and we take care of them. Now I'm by myself," Chica wrote on the page. "I hope you can help us because it's really hard you never know what you can feel until the day that you have to live this [kind] of situation."
"I hope we are not one more family separated or one more number in the statistics," she concluded.
This article was originally published on