Outraged By ICE Policies Separating Kids From Parents? Here's What You Can Do.
by Joanna McClanahan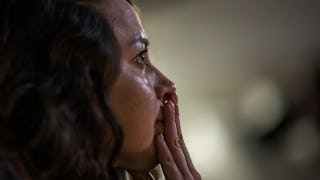 David McNew / Getty
Last month, the Department of Health and Human Services admitted to losing track of 1,475 children who had crossed the U.S.-Mexico border last year on their own, and had been placed with adult sponsors in the United States.
The volume of children unaccounted for has sparked outrage about the safety and treatment of children taken into U.S. custody. Many took to social media to draw attention to the crisis using the hashtags #WhereAreTheChildren and #MissingChildren.
Rightfully, there are now additional concerns about recent changes to ICE policy separating parents from their children at the U.S.-Mexico border.
On May 7, Attorney General Jeff Sessions announced that the Justice Department would begin prosecuting every person who crossed the Southwest border illegally, and that they would be separating children from their families.
"If you smuggle an illegal alien across the border, then we'll prosecute you…If you're smuggling a child, then we're going to prosecute you, and that child will be separated from you, probably, as required by law. If you don't want your child separated, then don't bring them across the border illegally. It's not our fault that somebody does that," said Sessions.
According to the Washington Post, the consequence of this new "100 percent" prosecution policy is that 100 percent of children will be separated from their parents when the adults are charged, even if the adults are seeking asylum and present themselves at official ports of entry.
Because of the Trump administration's "zero tolerance" directive, the number of migrant children held in U.S. government custody has surged 21 percent in the past month, according to the latest figures.
According to the ACLU, this inhumane directive is part of the Trump administration's larger strategy of deterring immigrants from seeking refuge in the U.S. In response, the ACLU has filed a class action lawsuit against the Trump administration for its practice of locking up asylum seekers without due process.
The news of this policy — and the resulting "lost" children, not to mention the mere separation of families — has shaken many people. Like so many others, you might be wondering what you can do to help. Well, here are a few ideas:
1. Join the ACLU.
The American Civil Liberties Union is on the front lines of this fight. ACLU is arguing that the directive is in violation of the Constitution, U.S. law, international law, and the Department of Homeland Security's own policy.
Organized by best-selling author Glennon Doyle, this fundraising effort will go to provide bilingual legal and advocacy assistance for 60 children, aged 12 months to 10 years, currently separated from their parents in an Arizona detention center. Their priority is to reunify parents with their children and provide legal representation and rehabilitation for the children. Their ultimate goal is to help overturn the policy that is separating these families.
3. Donate to programs that specialize in providing legal representation to minors and asylum seekers.
Some organizations include The Florence Project and Refugee Rights Project, The Young Center for Immigrant Children's Rights, Kids In Need Of Defense (KIND), and the Asylum Seeker Advocacy Project. The government does not provide attorneys for people in immigration removal proceedings. As a result, the majority of detained people go unrepresented due to poverty.
4. Keep the pressure on ICE and the current administration.
"Now is the time to be as loud as possible." Use whatever means you have to support or draw attention to this issue. We need to continue to hold politicians accountable and use our voices to advocate for the voiceless.
These children deserve better and, as a nation, we are better than this. It's time to #EndFamilySeparation — which never should have happened to begin with.