Iconic Actress Mary Tyler Moore Dies At 80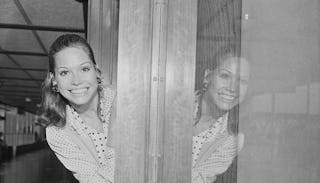 Image via Dove/Daily Express/Hulton Archive/Getty Images
"Who can turn the world on with her smile…"
Those of us who remember watching Mary Tyler Moore on television also remember what a groundbreaking role she played for women everywhere: she was a celebrated, single, career woman. "The Mary Tyler Moore Show" let women everywhere know there wasn't just one way to exist: that the homemaker image constantly thrust upon women at that time was simply not for everyone.
Mary Tyler Moore wasn't just an actress, she was an icon. She passed away today at age 80, surrounded by friends and her husband of 33 years.
"Today beloved icon Mary Tyler Moore passed away at the age of 80 in the company of friends and her loving husband of over 33 years, Dr. S. Robert Levine," her rep Mara Buxbaum said in a statement today. "A groundbreaking actress, producer, and passionate advocate for the Juvenile Diabetes Research Foundation, Mary will be remembered as a fearless visionary who turned the world on with her smile."
"The Mary Tyler Moore Show" debuted in 1970. Moore played Mary Richards, a single career woman working at a Minneapolis TV station. It was the "modern" woman's sitcom. The iconic beginning showed her twirling around, throwing her hat in the air, literally celebrating her existence. And it was an existence that wasn't defined as a usual supporting role: a mother and wife first, and woman second. She was unapologetically unattached, ambitious, and a girl's girl. Who could forget her BFF Rhoda? They were #squadgoals before we even knew what that was.
In an interview with Larry King in 2002, Moore explained why she believed the show became so popular:
"I think I can take responsibility for that in that I was the audience," she said. "I was the voice of sanity around whom all these crazies did their dance. And I reacted in the same way that a member of the audience would have reacted."
Rest in peace. You really could turn the world on with your smile.