There's Going To Be A 'Tiger King' Sequel About Carole Baskin's Missing Husband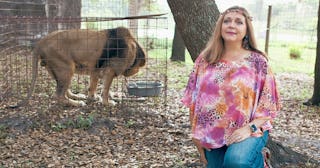 Netflix
Will we finally know what happened to Carole Baskin's husband?
Anytime you hear the name "Carole Baskin," a horror movie-like image likely pops to mind — her casually feeding her husband to her tigers. Now Investigation Discovery is taking Tiger King to a whole new level by centering their sequel around what exactly did happen to Baskin's second husband, Don Lewis.
The Tiger King documentary that has saved us all from a complete and total quarantine meltdown is getting a sequel. Though Netflix recently announced new episodes would be available, the crime cable channel, Investigation Discovery, recently announced an unofficial limited series following Netflix's already-iconic docuseries.
Of course, any sequel worth watching wouldn't be the same if it didn't at least include some footage of Joseph "Joe Exotic" Maldonado-Passage and his gaggle of characters, but what people really want to know is what in the hell happened to Carole Baskin's missing husband?
"Love her or hate her, Carole is now in the center ring of the big cat circus," ID said in a statement. "Is she a selfless crusader and protector of animals, who found unimaginable strength despite the mysterious disappearance of her husband? Or are we witnessing Carole Baskin's master plan finally take effect? Despite her claims of innocence, did she orchestrate the disappearance of Don Lewis to seize control of his fortune, consolidate power and lay waste to her foes? No one seems to be talking – except for one man – and that man is the center of ID's upcoming investigative series."
The project is titled Investigating the Strange World of Joe Exotic, which promises to show "the investigation you didn't get to see, revealing the secrets only Joe knows, the exclusive footage that has never been shown and the search to answer the one question every person in America is asking themselves right now: although she's denied it, is Carole Baskin responsible for the disappearance of her husband, Don Lewis?"
It makes sense the TV network that has brought us shows like Evil Lives Here and In Pursuit With John Walsh would take a stab at solving the world's most talked about possible murderer — Carole Baskin. "ID is the perfect place to find the inevitable sequel to this drama — featuring a missing husband, a hit man, and the illegal business of exotic animals," the statement continues. The man at the center of the allegations — Joe Exotic himself — will be interviewed at length and will provide viewers with even more evidence (as he believes it), so that hopefully we can finally put this entire mystery to bed.
There is no word on when the series will be available but I'm pretty sure Tiger King fans will be waiting on pins and needles until it is announced.
This article was originally published on