If Kindergarteners Designed Kindergarten...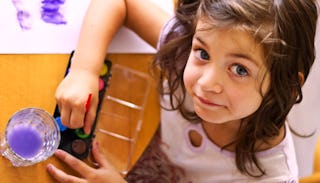 Things have changed and the kindergarten of our youth is a thing of the past. In fact, experts will tell you that nowadays the expectations on kindergarteners is what most of us experienced as first or second graders, making kindergarten stressful and overwhelming for a lot of kids.
When I was in kindergarten, in Mrs. Won's class, I don't remember being required to actually learn anything, but I do remember having a really good time. And yet I turned out to be a good student and learned everything I needed to learn in kindergarten despite the absence of tests, homework, ipads, smart boards, desks, and strict rules and rigid curriculum.
Me? I want my kids to get a good education and value learning, but I also want them to enjoy going to school. And maybe they would a bit more if it looked like this…
1. Every Day Would Be Costume Day. What kid isn't happiest in a costume?
2. Kids Would Be Broken Up Into Three Reading Group Levels: 1) Kids who know how to read, 2) Kids who are open to the idea and 3) Kids who could care less about reading, they'd rather play. There's always next year!
3. Teachers Would All Refer To Themselves As Elsa, Anna or Spiderman. Because no kid can remember what their teacher said, but every kid can remember everything their favorite character said.
4. Kids Wouldn't Have To Sit At Desks Or Tables. What kindergartener wants to sit? And why do they have to sit? Can't sitting be a suggestion for when they are done wiggling and fidgeting?
5. All Classrooms Would Come Equipped With A Place To Bounce. Instead of that dirty circle time rug, shouldn't every classroom come equipped with a trampoline? Kids don't seem to have attention problems when they're bouncing.
6. No Homework. Except playing, playing and playing.
7. Every 30 Minutes Kids Get To Scream Or Run Around For No Reason. Because isn't that what little kids really want to do anyhow?
8. No Sight Words! Goodness, when was last time any kid easily remembered random words that were hard to spell? So instead of memorizing words like, "this", "then," and "that," how about giving them words they are interested in. No kid has ever forgotten how to spell "Bam!" or "Princess."
9. Teachers Would Be Trained In Making Funny Faces, Cartoon Making, And Fart Jokes. I'm guessing every kid would become an auditory and a visual learner when the teacher tells a really good fart jokes or makes a funny face.
10. School Would Start Late And End Early. This is really for the parents, but the kids would appreciate it too. Whomever decided elementary school should start at 8AM never had to make lunch, snacks and find their kid's missing shoe.
Related post: 6 Things I Learned as a Kindergarten Room Mom
This article was originally published on