Immigrant Baby Reunites With Mom Covered In Lice: 'My Son Is Not The Same'
by Thea Glassman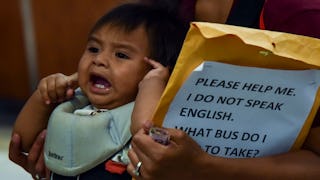 Image via The Washington Post/Getty
First-hand stories of immigrant children separated from their parents are gutwrenching
The Trump administration's zero tolerance immigration policy separated more than 2,000 kids from their parents. Now, some of those families are finally being reunited and we're starting to hear first-hand accounts of the way children were treated in detention centers. The stories are heartbreaking and clearly demonstrate abuse. One in particular — about an immigrant baby covered in filth and lice — will destroy you.
Two weeks ago, seventeen U.S. states filed a lawsuit against the Trump administration, saying that their policy of separating immigrant families broke the fifth amendment. They demanded that the government hand over information about everyone detained ASAP, and submitted more than 900 pages worth of accounts from immigrants, officials, and medical professionals about the horrible repercussions of the administration's policy.
One particular story involved a 14 month old boy, who was returned to his mother Olivia Caceres after three months in custody. When she finally got to hold him again, she found that he was covered in dirt and lice.
"It seemed like they had not bathed him the 85 days he was away from us," Caceres said, per PBS. "…He continued to cry when we got home and would hold on to my leg and would not let me go."
Caceres added that her son is "not the same" since they reunited. "I thought that, because he is so young he would not be traumatized by this experience, but he does not separate from me. He cries when he does not see me. That behavior is not normal," she said. "In El Salvador he would stay with his dad or my sister and not cry. Now he cries for fear of being alone."
This story quickly spread across the internet, and people took to Twitter to express outrage over this repulsive, dehumanizing treatment.
That's only one of the many, many gutwrenching stories out there. Ludin Jimenez said that her two children didn't have shoes or blankets in their detention center.
"There were people in the cells that had to sleep standing up," she reported. "They did not have enough to eat either, and could not drink the water, because of the chlorine they added to it … the incarcerated children were insulted – called named such as 'animals' and 'donkeys.'"
Alma Poletti, an investigator, interviewed children about their experiences while detained and found out about even more child abuse. The detention centers were freezing, the children weren't fed adequately, and there wasn't enough space to sleep.
"The guards would wake all the girls up at 4 a.m. to count them by kicking on their mats," she said. "[One of the girls interviewed] G cried when she told me she kept hoping her mother would show up to take her out of that horrible place, but that never happened. … G overheard a girl asking to make a phone call to her family, but she was told they did not allow girls to make phone calls while detained."
If you like to help reunite more immigrant children with their families, there are a few great options. You can support RAICES, a nonprofit that get immigrant detainees out of jail and represents them in court or Fronterizo Fianza Fund, which posts bonds for detainees and helps pay their phone bills while in prison. And, as always, you can call you representatives to let them know you won't stand for this abuse.