Immigrant Kids Young Enough To Be In Diapers Are Appearing Alone In Court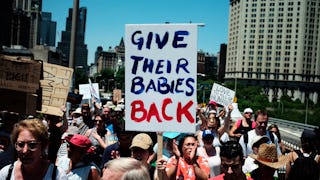 Xinhua/Li Muzi via Getty Images
Kids in diapers are appearing alone in court as judges scramble to find their parents, many of whom have already been deported
As the government rushes to reunite families who have been separated at the border before the deadline, children who have been taken from their parents are appearing in immigration court — not only without their parents, but often without any sort of legal representation. Some of these children are in diapers and have little understanding of what is happening around them — most don't speak English.
In some cases, their parents are awaiting their own trials, while in other cases, their parents have weeks or months ago been deported back to their violence-filled countries of Guatemala, Honduras and El Salvador.
Hundreds of children, who were brought into the United States by their asylum-seeking parents, are facing legal proceedings alone, after weeks or months away from their families. It's the result of the Trump Administration's "Zero Tolerance" immigration policies, which separated families at the border and put children into detention camps, or into the care of over-stressed Health and Human Services departments.
In a recent case, a one-year-old in diapers and drinking a bottle appeared before an immigration judge in Phoenix, Arizona, shocking even the judge himself.
"I'm embarrassed to ask it, because I don't know who you would explain it to, unless you think that a 1-year-old could learn immigration law," Judge John W. Richardson told the child's lawyer.
The lawyer explained that the child's father had already been taken back to the family's home country of Honduras, under false pretenses that he would be reunited with his baby.
Shockingly, this child is among the lucky when it comes to the separated masses of children — he has legal representation, while most kids with immigration legal issues don't have a right to an attorney and certainly don't know that they even need one. According to Kids in Need of Defense, a non-profit organization that helps find lawyers for these children, nine out of ten children without attorneys are deported back to their countries.
This one-year-old baby is just one of many cases of children facing deportation hearings without their families. The Associated Press reported that when one Guatemalan child was asked his age, he simply put up five fingers. Another girl, seven, just wanted to be reunited with her parents, even if it was in her home country they had desperately fled. Both children were "voluntarily deported" back to their dangerous countries — if you can really knowingly volunteer to do anything at such a young age.
Perhaps the most upsetting part of these child court cases is that these outrages are not at all rare and not new to our immigration policy. A Syracuse University study showed an estimated half of the 300,000 immigrant children ordered to court between 2005 and 2017 didn't have legal representation — and the vast majority didn't speak English.
Recently, a viral video by filmmaker Linda Freeman reenacted transcripts from court cases like these in order to show what it might be like for a child to face a judge alone, without their family or a lawyer, headphones on so that they can hear translations.
The video was created to raise money for these children's support services.
This article was originally published on