6-Year-Old Girl Was Sexually Abused Multiple Times At Immigrant Detention Center
by Thea Glassman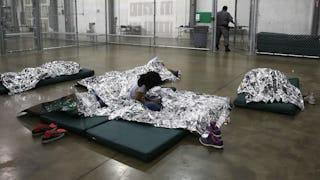 Image via John Moore/Getty Images
A 6-year-old girl was sexually abused at an immigrant detention center
The Trump Administration's "zero-tolerance" immigration policy ripped parents away from their children and the results have been devastating. According to an investigation by The Nation, a 6-year-old girl was sexually abused at an immigrant detention center multiple times.
In May, the young girl and her mother arrived in America and told border patrol agents that they were fleeing gang violence in Guatemala. They noted that they had "credible fear" about returning to their home country. The two were separated, and the girl was placed in Casa Glendale, a shelter near Phoenix, Arizona.
About a month later, the child's father (an undocumented immigrant living in the United States) received a call from the shelter saying that his daughter had been fondled by a boy. They reassured him that they would handle the situation. And how exactly did they do that?
Well, they had the 6-year-old sign a form that said she would "maintain [her] distance from the other youth involved" and that she had been educated about "good touch bad touch." Oh, and in signing the document she was agreeing that it was her responsibility to stay away from her abuser. Completely unacceptable.
Then it happened again. The girl's father received another call saying that his daughter had been fondled by the same boy. When he asked how this could keep happening, he wasn't given any answers. Meanwhile, the girl's mother was informed about the abuse and was forced to sit idly by while her daughter was in trouble.
"I felt really horrible. I couldn't do anything for her, because we were separated," she told The Nation. "It was a nightmare. When my husband told me what happened, I felt helpless. She was so little, she was probably so scared, probably afraid to say anything to anyone. It was a total nightmare for me."
The family has finally been reunited thanks to the help of Families Belong Together, a movement that was formed to end Trump's zero-tolerance policy. But the little girl is still traumatized.
"I hugged her, I was crying. She didn't recognize me," her mother said. "She told me that she thought I was never going to be with her again and that she was going to have to live with another lady. She behaved like she was still in detention. She wouldn't touch me, hug me, or kiss me."
She added that her child now wakes up every morning at 6 a.m., takes a bath, eats, and "acts like she is programmed." The family still has a long road ahead of them, and there are a lot of question marks in the air.
"I don't know what to hope for. I don't know what will happen," her dad told The Nation. "But I think that whatever happens will be good, because we are all three together again."