Immigrants As Young As 14 Detail Horrid Abuses At Virginia Detention Center
by Valerie Williams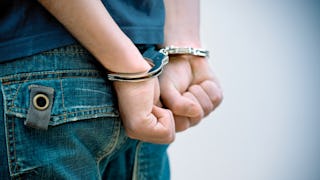 Image via AlexRaths/Getty Images
Immigrant teens detail abuse suffered at the hands of guards at Virginia detention center
In today's fresh horror, federal court filings detail positively horrifying abuse of teen immigrants, some as young as 14, that occurred at Shenandoah Valley Juvenile Center near Staunton, Virginia.
The Associated Press reports that a half-dozen sworn statements from Latino teens detained for months or even years tell stories of kids being left nude, shivering, beaten, and handcuffed in cells on concrete floors. Sometimes, they were in solitary confinement. Multiple kids in the Shenandoah facility say they were restrained in chairs with bags over their heads. Their stories are being told as part of a federal lawsuit.
A Honduran immigrant sent to the facility at age 15 detailed some of the abuse he suffered."Whenever they used to restrain me and put me in the chair, they would handcuff me. Strapped me down all the way, from your feet all the way to your chest, you couldn't really move. … They have total control over you. They also put a bag over your head. It has little holes; you can see through it. But you feel suffocated with the bag on."
Court filings include detailed descriptions of abuses translated from the kids' own words. A former child development specialist who worked at the center told the AP she saw kids with bruises and broken bones that they told her were from guards. Lawyers for the facility are denying the charges of physical abuse.
Some of these kids are in the center after being accused of involvement with violent MS-13 gangs, which is what Trump cites as one of his reasons for cracking down on immigration. Yesterday, he said, "our Border Patrol agents and our ICE agents have done one great job," and "We're throwing them out by the thousands."
Again, some of these detained (and abused) kids are as young as 14.
However, Kelsey Wong, a program director at the facility, testified in April that these kids aren't the violent gang members Trump claims. "The youth were being screened as gang-involved individuals. And then when they came into our care, and they were assessed by our clinical and case management staff … they weren't necessarily identified as gang-involved individuals."
Most of the kids detained at this facility were found trying to cross the border by themselves. They weren't necessarily separated from their parents, but the facility they're detained in is run by the U.S. Office of Refugee Resettlement, the very same organization running the "tender age" shelters and caring for the kids torn from their families while the parents await deportation hearings. It's currently unclear whether any kids at the Shenandoah facility were separated from their parents.
The Shenandoah center was originally created to house local kids charged with serious crimes, but since 2007, roughly half the facility's 58 beds are occupied by immigrant kids, ages 12-17, awaiting deportation or asylum hearings. The kids detained on immigration charges haven't been charged with any crimes.
The abuse chronicled in the lawsuit is purely horrifying. A 16-year-old boy from Texas was sent to the facility after a car he was riding in was pulled over and he was unable to produce ID. He was sent to Shenandoah where, as one of the few Latino kids able to speak English, he upset the guards with his ability to translate their taunts toward other kids.
"If you are behaving bad, resisting the staff when they try to remove you from the program, they will take everything in your room away — your mattress, blanket, everything," he said. "They will also take your clothes. Then they will leave you locked in there for a while. This has happened to me, and I know it has happened to other kids, too."
A Mexican 15-year-old details similar abuses. "They handcuffed me and put a white bag of some kind over my head," he said in his sworn statement. "They took off all of my clothes and put me into a restraint chair, where they attached my hands and feet to the chair. They also put a strap across my chest. They left me naked and attached to that chair for two and a half days, including at night."
The lawsuit also details self-harm by the detained teens, including cutting and attempts at choking themselves or even consuming shampoo. Kids ages 12-17, trying to end their own lives rather than continue suffering these unspeakable abuses.
There's a hearing on the lawsuit on July 3 before a federal judge. We can only hope justice is done.