Even Experts Say It's Literally Impossible To Buy Just One Thing At Target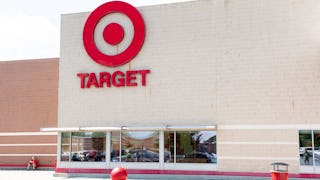 Image via Michael Brochstein/SOPA Images/LightRocket via Getty Images
As it turns out, there's a reason we buy All The Things at Target
I can walk into Target with a single item in mind, but let's be real; I'm coming out with a cart full of treasures, no matter how hard I try to remain chill and keep my eye on the prize. Judging by the internet and convos with fellow moms, I'm far from alone — and now? Actual experts confirm what we've long known.
It's pretty much impossible to enter our mothership and only buy one thing.
Refinery 29 interviewed some experts on the subject of shopping including Tom Meyvis, a professor of marketing at New York University's Stern School of Business. Meyvis says it's the layout of the place (and apparently not the big, red bullseye) that makes us helplessly hypnotized to buy All The Things.
"Stores have an idea about the path [shoppers take]," he says. "Walmart was once famous for doing things like putting like Band-Aids next to fishing hooks and things like that. Something you don't naturally associate, but once you see them there, it makes sense. So when people come in for something in one category, you can cross-sell, you can sell them something that compliments in the next product category by making sure they're right next to each other."
OK, now I feel like kind of a brainwashed victim, but I'm honestly not even mad. You don't tell Target what you need, Target tells you. It's all coming together for me now.
Joe Perdew, Target's Vice President of Store Design, tells Refinery 29 that the store goes out of its way to help direct you to what you really really want. "We know that some guests want to grab a coffee at Starbucks and explore the aisles, so we've added features like dynamic product vignettes throughout the store that help guests envision how things will fit into their lives. Our revamped Beauty department looks like a specialty shop and is designed to invite guests to try out products, and in Home, products are cross-merchandised and displayed in lifestyle settings, so guests can imagine what they'll look like in their own homes."
So this is why if I pluck a pair of throw pillows off the shelf I also invariably end up with a few picture frames and scented candles in my cart. None of this is my fault — Target planted the seeds and my mind simply allowed them to germinate. God dammit, Target.
Kentucky psychologist Dr. Kevin Chapman says you give Target all your money because it's just a happy place to be. And I concur. "You have good people in the marketing department at Target, and they have really good designers who have created such an ambient atmosphere for people," he says. "It's really well lit at Target, right? There's a lot of color at Target. It's pretty consistent throughout the store and generally that's going to make people feel happier."
I can confirm that personally, 100 percent. There's no place like home, but Target is the next best thing.