Restaurant Owner Gives Free Meals To Anyone In Need
by Valerie Williams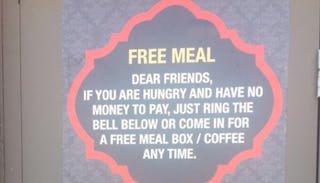 Generous restaurant owner will give away a meal to anyone who says they're in need
Once in a while, we hear a story about someone being good simply for the sake of being good — that is, with nothing in it for them. Totally selfless gestures are so rare, but this restaurant owner who promises to feed anyone that says they're hungry is about as selfless as it gets.
Parkash Chhibber is the owner of Indian Fusion, an Indian restaurant in Edmonton, Alberta. He tells The Huffington Post, "I have seen enough hunger in the past. I know the pain of not having food." And to that end, he decided to do something about it. This sign is displayed on the back door of his restaurant:
It reads, "Dear friends, If you are hungry and have no money to pay, just ring the bell below or come in for a free meal box/coffee anytime." Below this kind offer are the choices — a vegetarian or non-vegetarian meal and choice of drink.
The sign ended up on Imgur thanks to Edmonton resident Daniella Tintinaglia and has now been viewed well over two million times. She says, "I have never eaten there before, but after seeing this sign, I want to eat there as much as I can to support them and this amazing idea."
The restaurant has been open since 2009 and Chhibber has been offering free meals for the last two years. However, it was only six months ago that he put up the sign advertising it. He tells CTV that it was hard knowing whether someone was in need just by looking. "I thought, how many people can I go and ask, 'Are you hungry?' It's not possible. So I thought, why not put up a sign? In case someone is hungry."
Chhibber says the number of people requesting a free meal varies, with some days yielding 10 requests and others, no knocks on the back door at all. But the number of people don't really matter to him. He has very personal reasons for wanting to at least offer.
He explains to The Huffington Post that a 1992 car accident left him with such severe injuries he was bedridden for over two years, resulting in the loss of his job. Chhibber tells of a night where he and his wife got desperate for food. "One particular evening me and my wife literally had nothing to eat or any money. I was always shy to ask for help in terms of money. So, on my crutches, me and my wife decided to visit some of our friends' houses at around dinner time."
The couple were ultimately taken in and fed by their friends that night and it obviously struck a chord with Chhibber. He emigrated to Canada with his family in 2005 and opened the restaurant four years later, ultimately, offering free food to people in need. The same way that he was.
Of course, not everyone is in a position to do something this generous, but reading about this man's efforts to help those in need can certainly inspire us all in our own way. Maybe we can offer to pay for the person in front of us at a coffee shop or make a habit of donating to a local homeless shelter or food bank.
Sadly, there are so many in need all around us and people like Chhibber who are willing to give back can inspire others, however they're able. His good deeds will now go far beyond the back door of his restaurant, reaching everyone who reads his story.
Hopefully, his kindness will have a ripple effect and make an even bigger difference for a long time to come.
This article was originally published on