Indiana Is In A State Of Crisis When It Comes To Maternal Mortality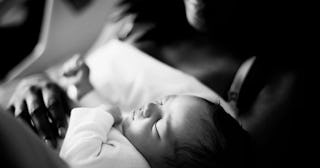 Scary Mommy and Mayte Torres/Getty
Indiana, for all of its faults, does have some benefits, including a relatively affordable cost of living. But when it comes to the price of health care in the state, an individual's average payout for treatment is higher than many places in the nation, with ER visits more than double the cost of what they are in surrounding states.
Considering these steep prices, Indiana's healthcare system should be phenomenal, right? As it turns out, Indiana is one of three states with the highest childbirth-related deaths and injuries in the nation.
According to a recent and in-depth study from the USA Today, which compiled evidence from the Agency for Healthcare Research and Quality, Health Resources and Services Administration, and the CDC, there are 41.4 deaths for every 100,000 live births for white women, and 53.4 deaths for every 100,000 live births for African-American mothers. When Indiana is compared to places like California and many other rural areas, Indiana mothers are eleven times more likely to die from childbirth.
But perhaps the most shocking finding of them all? Indiana mothers are dying at a higher rate than mothers in Iraq — a country that doesn't even come close to having the same health care resources as other developed countries, like the U.S. And when it comes to America as a whole, with a maternal mortality rate of 20.7 for every 100,000 births, the U.S. is losing mothers at twice the rate as any other developed country.
This is an outrage and major cause for public concern.
What makes it even more alarming is that, given these harrowing statistics, resources that could have helped to prevent some of these deaths (and injuries) have been slashed.
In June 2018, a Planned Parenthood facility in the second largest city in Indiana, Fort Wayne, was shut down. Research shows us that without organizations like these, which provide free and low-cost services to women, including birth control, more unwanted pregnancies will happen. Which means more complications occurring and maternal health declining in surrounding areas.
On the last day of the 2019 legislative session, Indiana Senator Breaux's new law, which would pay to have doulas provided statewide under Senate Enrolled Act 416, lost its funding. Doulas serve a number of functions throughout pregnancy, including providing care to the mother and advocating for both baby and mom.
Considering Indiana's rise in maternal deaths, the proposed legislation could have made a significant impact on these mortality numbers, especially when we consider the lack of maternal health care facilities throughout dozens of rural Indiana counties.
Commissioner at the Indiana State Department of Health, Dr. Kristina Box, tells Indianapolis's NBC-13 that a large number of the maternal deaths in the state occur in rural and urban areas. According to NBC 13, these places are often referred to as "maternity deserts" — a term used by the March of Dimes in reference to under-served areas for maternal health.
When Indiana is compared to places like California and many other rural areas, Indiana mothers are eleven times more likely to die from childbirth.
"We have 33 counties that either have no hospital or the hospital has no OB services," Dr. Box told NBC-13.
In emergent situations, these counties do not possess the medical resources needed which would allow mothers life-saving care when time is of the essence. Although meant to be a joyous time, childbirth can be dangerous and scary for both mom and baby. In the case of hemorrhage, dangerously high blood pressure, or infection, things could become fatal for both mom and baby if not tended to in a professional and timely manner. And without maternal care being offered and readily available in all of Indiana's counties, the mortality rate for mothers is going to continue to rise while injuries skyrocket.
According to the USA Today study, which sparked the nation's interest to investigate maternal death with urgency, we see these deaths are not solely due to poverty or a pre-existing medical conditions, as has been accused in the past.
According to the CDC, a majority of the 700-800 deaths we see each year in America are preventable. But the problem is that we've not taken the initiative to make any preventative changes.
We have spectacular doctors and surgeons spread across our nation, but it's impossible for them to save lives working with a system that fights against them. The U.S. lacks specific protocol for dealing with urgent pregnancy-related health concerns (the most common being hemorrhage and high blood pressure). Much like when someone enters the ER with a complaint of chest pains, this protocol would follow a set of guidelines to assure the mother and baby's health.
"We have 33 counties that either have no hospital or the hospital has no OB services," Dr. Kristina Box told NBC-13.
But what makes this so heart-wrenching and unacceptable is the fact that we know these protocols would help our mothers, and yet, the nation still isn't doing anything about it. Meanwhile, funding is pulled from programs that promote maternal health.
All of this begs the question: Why aren't pregnant and postpartum mothers properly cared for in one of the wealthiest countries in the world? Why aren't mothers' health being taken seriously? And why isn't more preventative care provided?
Because until it is, more women will continue to die.