The Reason Some Kids Excel In Sports? Money
by Sa'iyda Shabazz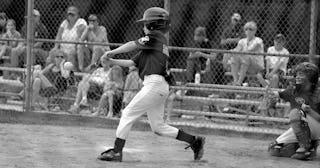 Ben Hershey/Unsplash
As we settle into our back-to-school routines, there is something else beginning. That's right, with fall comes fall sports. Youth sports like football, soccer, and hockey are gearing up for new seasons. Parents with kids who play sports understand the great sacrifice it takes to make this happen. But there's a sacrifice we don't talk about openly enough — the inequity of youth sports.
The inequity is largely financial, pricing out lower to middle class families from competitive youth sports. Financial inequality in youth sports isn't exclusive to any one sport. Of course, it's more obvious in sports like soccer or baseball, where "pay-to-play" sports are becoming the norm. And as prices continue to rise and parents struggle to afford the basics for their families, the inequity of youth sports will only become more and more evident.
According to The Aspen Institute's Project Play, the amount of families who make less than $75,000 and participate in youth sports is dropping. And it has been since 2011. Kids in families making less than $50,000 has always been less than half. But families making less than $20,000 has the steepest decline from 41.9% to 34.1%. Kids with families making less than $50,000 dropped from 47.8% to 44.6%. More than half (59.6%) of kids participating in youth sports came from homes making $50,000 to $75,000 a year. In 2017, that number was 56.6%.
On the other hand, the amount of more affluent families in youth sports is rising. Since 2011, the amount of kids coming from homes making between $75,000 and $100,000 rose. It went from 61.5% in 2011 to 64% in 2017. And kids in families making over $100,000 has been steadily increasing since 2012. It also has the highest increase, 63.9% to 69% in 2017. There was a three percent drop between 2011 and 2012.
On The Aspen Institute Project Play website, they break down many of the reasons children are being left behind in youth sports. They explain that parents of kids on travel teams pay $2,266 annually for their kids to participate. But as you go to higher, more elite teams, that number grows to $20,000 or more. A family only making $25,000 doesn't have that kind of money to spend. And as these teams emerge for younger kids, they're being left behind before they can even start. Unsurprisingly, parents making less than $50,000 annually told researchers that cost is what's keeping their kids out of sports.
I'm a poor parent, so I understand the inequity of youth sports. There would certainly be sacrifices we'd have to make for my son to play youth sports. We have a recreation center in our neighborhood that caters to a lot of low income families. If my son wants to play soccer this fall, it will only cost us about $85, which is a lot, but manageable. That fee includes his uniform, paying the coach, trophies, and games. But while that fee is feasible for my son's father and I, there are definitely families in our area for whom that would be impossible.
Sharon Van Epps, a mom and writer who lives in the Seattle area, wrote about her experiences with youth soccer. Her children, who are now teenagers, began playing soccer as young children. It was the family's move to Seattle that gave Van Epps a bigger look at the inequity of youth sports. "My children joined a soccer club with an all-city draw, and we've discovered that the majority of the club's players hail from Seattle's whiter and wealthier neighborhoods," she writes.
While the Aspen Institute doesn't give specific breakdowns racially, it's a clear component in the inequity of youth sports. "Sport participation rates for white children exceed that of African-Americans, Hispanics, and Asian kids. Data on other historically marginalized groups such as Native-American children are not even reported," they explain.
Christine Jordan, a mom from New Jersey, knows the sacrifices youth sports require too well. Both of her sons play youth baseball. One plays more consistently than the other. As a family with little disposable income, she and her husband have to make tough financial decisions. "We have to save money from Christmas thru April to have the money to let [our son] play for Spring," she explains. In the past, they've had to use their tax return to pay for their two sons to play baseball. "If his grades slip he has to miss practice. I haven't made him miss a game yet. Frankly because we pay for him to play," she adds.
Should my son want to participate in sports, his dad and I have flexible jobs to take him to practice and travel, but neither of us has a car, so getting him places would be an additional cost. And that cost could be the thing that prevents him from participating.
Project Play reports that the average American family spends $700 for their child to participate in sports. But the inequity in youth sports comes from the families spending $35,000 annually for their children to participate. Those costs include things like lessons, travel, training camps and school fees. According to data from the Rand Corporation, as public school budgets get cut, they're starting to charge fees as well. Within that data, families making less than $50,000 admit that cost is the main reason their children don't participate in youth sports.
"We have a system that is based on the concept of 'up or out,' like we have in a lot of corporate America, except it's not merit-based," executive director of The Aspen Institute's Sports & Society program, Tom Farrey tells CBS News. He also notes: "It's disproportionately based on whether you come from a family with money or if you are that child who is simply an early bloomer."
But it's poor kids who ultimately suffer from the inequity of youth sports. "There are a variety of reasons why kids don't participate in sports. Some of it is access, some of it is transportation and some of it is safety," Mara Mazza from the Kings County Tennis League tells CBS News. The Kings County Tennis League is a non-profit in Brooklyn that teaches low income kids the sport.
Along these lines, The Aspen Institute claims that causal sports play isn't as common anymore. Back in the day, kids getting together to play baseball or soccer at the local park or outside was normal. But now lower income kids don't always have that luxury. Many of them care for younger siblings after school. Or older kids may work to help support the family. This is especially true for kids of color. And as kids get more schoolwork, they have less time to devote to leisurely games of catch in the neighborhood.
Right now it's hard to know exactly what's going to be the thing to level the literal playing field. It's not fair that we're pushing poor kids out of another thing. But maybe as we begin to recognize this as a problem, we can push for a change.
This article was originally published on