Couple Whose Infant Son Died Of Meningitis Urge People To Get Vaccinated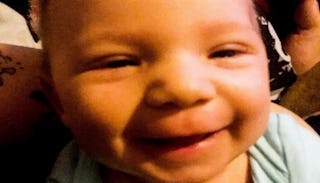 Image via GoFundMe
The infant was just four months old when he died from bacterial meningitis
Two weeks ago, Alex Dempsey and Gabriel Schultz experienced what no parent should ever endure — the sudden loss of their child. Their baby boy was just four months old when he died from a form of bacterial meningitis — and now they're looking to spread an important message to other parents.
When they picked their infant son, Killy, up from daycare on June 30, they thought he had a regular fever. Just 24 hours later, Killy died from bacterial meningitis. It's absolutely heartbreaking. And according to Dempsey and Schultz, it's absolutely preventable.
"We really want to encourage adults, teenagers, everyone to stay up to date on vaccinations," Dempsey tells TODAY. "Our big goal is if we can prevent another family from going through what we are, that's what we want, in order to do right by our son."
Officials with the Virginia Department of Health told the grieving mom they believe Killy was exposed to an asymptomatic carrier of the meningococcus bacteria during a visit to their pediatrician's office. An asymptomatic carrier can carry the bacteria in their nose or throat despite not appearing or feeling ill.
Just two days prior to developing symptoms, Dempsey and Schultz took their son to get his routine four-month vaccinations. Symptoms of bacterial meningitis usually present themselves within two to 10 days of contracting the disease. The Virginia Department of Health cannot discuss further details of Killy's case due to state health laws, TODAY reports.
Meningitis is a serious inflammation of the membranes that cover the brain and the spinal cord — and it's especially dangerous for infants and children. Just last year, a newborn died from meningitis after catching it from a loved one with cold sores who kissed her.
While Killy's case is extremely rare, it's crucial to keep teenagers and adults up-t0-date on vaccinations for meningitis. They're not recommended until children are at least 11 years old. Most people who get it are between the ages of 25-44, college students, members of the military, or anyone else who lives in close contact or tight quarters. Unfortunately, while vaccinations protect people from getting meningitis — people who have been vaccinated can still be asymptomatic carriers.
Dempsey feels it's still important to shed light on what happened to her son, in order to convince people to get the vaccine just in case — in hopes of preventing the spread of meningitis and other families having to endure the same unthinkable tragedy.
"Unfortunately I had studied meningitis before and it's a fear of mine because even in adults there's a high mortality rate," she says. "When they said meningitis, that's when I had a feeling we were not leaving the hospital with our son."
You can donate to a GoFundMe set up in Killy's name to help the family offset incurring costs here.