These 40+ Inspirational Graduation Quotes Will Leave You Schooled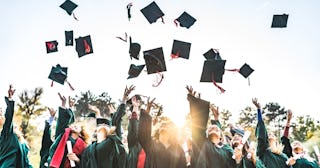 skynesher/ Getty
Every spring, drugstores roll out row after row of greeting cards, wishing graduates all the happiness and luck in the world as they head out into the world ready. But so many of these regurgitate the same messages that it gets old really fast. Graduating is a big deal and a novel experience for everyone. Each person's journey to reach this milestone is unique and deserves an equally exceptional congratulations note.
With that in mind, we've curated funny, inspiring, poignant, and really meaningful graduation quotes from notable celebrities in the literary, cinematic, and comedic world. Why not add a little magic to your greeting thanks to J.K. Rowling? Or maybe levity via Stephen Colbert and Mark Twain. Better yet, let these quotes inspire you to pen your own thoughtful wishes. Happy Graduation!
1. "It is impossible to live without failing at something, unless you live so cautiously that you might as well not have lived at all – in which case, you fail by default." — J.K. Rowling
2. "It's hard not to be afraid. Be less afraid." – Susan Sontag
3. "Take action. Every story you've ever connected with, every leader you've ever admired, every puny little thing that you've ever accomplished is the result of taking action. You have a choice. You can either be a passive victim of circumstance or you can be the active hero of your own life."
– Bradley Whitford
4. "And now go, and make interesting mistakes, make amazing mistakes, make glorious and fantastic mistakes. Break rules. Leave the world more interesting for your being here." – Neil Gaiman
5. "When people tell you not to believe in your dreams, and they say 'Why?', say 'Why not?'- Billie Jean King
6. "This is your time and it feels normal to you but really there is no normal. There's only change, and resistance to it and then more change." – Meryl Streep
7. "Don't let your fears overwhelm your desire. Let the barriers you face—and there will be barriers—be external, not internal. Fortune does favor the bold, and I promise that you will never know what you're capable of unless you try." – Sheryl Sandberg
8. "Life is an improvisation. You have no idea what's going to happen next and you are mostly just making things up as you go along." – Stephen Colbert
9. "Don't ever aim your doubt at yourself. Laugh at yourself, but don't doubt yourself." – Alan Alda
10. "Live in that sweet spot. Be present." – Wynton Marsalis
11. "Your education is a dress rehearsal for a life that is yours to lead." – Nora Ephron
12. "There will be times when your best isn't good enough. There can be many reasons for this, but as long as you give your best you'll be OK." – Robert DeNiro
13. "Some life lessons don't ever change. But how you embrace them will distinguish you from the pack." – Brooke Shields
14. "The aim of education is the knowledge, not of facts, but of values." – William S. Burroughs
15. "The fireworks begin today. Each diploma is a lighted match, each one of you is a fuse." – Ed Koch
16. "I have learned this at least by my experiment; that if one advances confidently in the direction of his dream, and endeavors to live the life which he had imagined, he will meet with a success unexpected in common hours." – Henry David Thoreau
17. "Sometimes you find out what you are supposed to be doing by doing the things you are not supposed to do." – Oprah Winfrey
18. "Don't just get involved. Fight for your seat at the table. Better yet, fight for a seat at the head of the table." – Barack Obama
19. "Real leadership comes from the quiet nudging of an inner voice. It comes from realizing that the time has come to move beyond waiting to doing." – Madeleine Albright
20. "I encourage you to live with life. Be courageous, adventurous. Give us a tomorrow, more than we deserve." – Maya Angelou
21. "You may not always have a comfortable life and you will not always be able to solve all of the world's problems at once, but don't ever underestimate the importance you can have because history has shown us that courage can be contagious, and hope can take on a life of its own." – Michelle Obama
22. "I have never let my schooling interfere with my education." – Mark Twain
23. "To be nobody but yourself in a world which is doing its best, night and day, to make you everybody else means to fight the hardest battle which any human being can fight; and never stop fighting." – E.E. Cummings
RELATED: 100+ Jokes About School That Are Definitely For The Cool Kids
24. "Never bend your head. Always hold it high. Look the world right in the eye." – Helen Keller
25. "Learn everything you can, anytime you can, from anyone you can – there will always come a time when you will be grateful you did." – Sarah Caldwell
26. "The direction in which education starts a man will determine his future." – Plato
27. "The important thing is not to stop questioning." – Albert Einstein
28. "The future belongs to those who believe in the beauty of their dreams." – Eleanor Roosevelt
29. "Your life is your story, and the adventure ahead of you is the journey to fulfill your own purpose and potential." – Kerry Washington
30. Intelligence plus character—that is the goal of true education." – Martin Luther King Jr.
31. "Always be the first-rate version of yourself, instead of the second-rate version of somebody else." – Judy Garland
32. "It always seems impossible until it's done." – Nelson Mandela
33. "The best way to predict your future is to create it." – Abraham Lincoln
34. "Just don't give up trying to do what you really want to do." – Ella Fitzgerald
35. "Success is not the key to happiness. Happiness is the key to success. If you love what you are doing, you will be successful." – Albert Schweitzer
36. "Champions are made from something they have deep inside them: a desire, a dream, a vision. They have to have the skill and the will. But the will must be stronger than the skill." – Muhammad Ali
37. "Don't judge each day by the harvest you reap but by the seeds that you plant." – Robert Louis Stevenson
38. "Success is no accident. It is hard work, perseverance, learning, studying, sacrifice, and most of all, love of what you are doing." – Pele
39. "When you leave here, don't forget why you came." — Adlai E. Stevenson
40. "Education is our passport to the future, for tomorrow belongs to the people who prepare for it today." — Malcolm X
41. "Life is an improvisation. You have no ideas what's going to happen next and you are mostly making things up as you go along." – Stephen Colbert
42. "Do all the other things, the ambitious things—travel, get rich, get famous, innovate, lead, fall in love, make and lose fortunes…but as you do, to the extent that you can, err in the direction of kindness." — George Saunders
43. "There is nothing more beautiful than finding your course as you believe you bob aimlessly in the current. Wouldn't you know that your path was there all along, waiting for you to knock, waiting for you to become. This path does not belong to your parents, your teachers, your leaders, or your lovers. Your path is your character defining itself more and more every day like a photograph coming into focus." — Jodie Foster
44. "You are educated. Your certification is in your degree. You may think of it as the ticket to the good life. Let me ask you to think of an alternative. Think of it as your ticket to change the world." — Tom Brokaw
This article was originally published on