Woman's Moving Obituary Urges People To Get Their Mammograms
by Leah Groth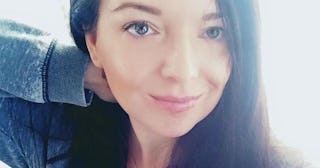 GoFundMe/Cassie Fox
Jennifer Summer passed away from breast cancer on February 11, and her best friends decided to honor her life philosophy with a beautifully written and "non-sterile" obituary celebrating her life
Jennifer Summer was first diagnosed with stage IV breast cancer in February 2017, when she landed in the emergency room with what she thought was an ear infection that turned out to be a deadly cancer that had spread to her brain. On February 11, the 41-year-old Kentucky photographer passed away due to the illness after a three year battle. When it came time to honor the mother-of-one, lover of mermaids, user of profanities, and "true artist," her friends decided to use it as an opportunity to share her life philosophy with the world — and the resulting obituary is one of the most stunning pieces of writing we have absorbed in a long time.
"Jennifer Summer was not one to focus on death. She didn't have time for it," begins the tribute written by her friend, Cassie Fox. "She was too busy living the heck out of each and every day: capturing the most ordinary moments in the most beautiful ways with her camera, turning the deepest thoughts into words that ran across the page like water, and creating a hundred different kinds of art with her hands and her heart."
"Perhaps that's why we're all so surprised to realize she's gone. You hear it every time someone passes, but Jennifer really was one of a kind," it continues. "She made you feel like family from the moment she met you, she was fiercely loyal to the ones she loved, and she was exceptionally generous with her time, art, emotions, and funds."
The obituary continues to describe the beautiful soul, who "could tell a story like nobody's business, swear like a sailor, and leaves behind a lengthy trail of totally filthy double entendres."
"To know her was to love her, and to also learn an astonishing number of euphemisms for anatomy normally not mentioned in polite company," she writes.
As a mother to her son Dakota, who was her "life's biggest muse," she "blossomed." "We're all proud of our children, but she positively beamed when talking about her son's gentle spirit, tender heart, and wise soul. He guided her into becoming a true artist, because in motherhood, she found endless inspiration," it continues.
The obituary continues to honor Jennifer as a friend, family member and mother, before offering a "non-comprehensive list of things you can do to be more like her." The extensive list including making new friends "literally everywhere you go" — including the gas station, Target, and public restrooms. "Donate to the causes she was passionate about. RAINN. Planned Parenthood. Local LGBTQ+ organizations. Animal shelters. Any political campaign that works towards peace, equality, and beating Donald J. Trump in 2020," it continues. "Live each day like it's your last day to make an off-color joke. Never, ever let a chance to use 'that's what she said' pass you by."
"Binge watch the entire series of The Office and Sex and the City at least once a year. Make birthday and Christmas packages absolutely epic. Get to know your people, and understand what makes their hearts beat faster. Seashells. Feathers. Driftwood. Signed books. It's not what you buy, it's what you know. Celebrate the people you love like it's your ding-dang paid occupation, each day, on every occasion," it continues.
One of the most important suggestions? "Get a mammogram, or encourage someone you love to get one."
"Make art. Make love. Make someone smile by proclaiming your love for them IN ALL CAPS. Make band names out of your most embarrassing typos. Make kindness your religion. Say 'I love you' often. Every time you talk. Every time you see each other. Every time you leave. Love endures all things, even death. Remember that."
Obviously, Jennifer was deeply loved by everyone around her, and her friend explains that losing her "leaves a terrible hole in the fabric of the universe."
"She will be missed in ways we can't even contemplate right now. It will be hard to mourn her in the days ahead, and it's almost impossible to contemplate a world without her. As much as we hate to say goodbye, however, we have a lifetime of good memories to remember her by," she writes. "It's those memories that will carry us through. Jennifer loved mermaids, and she's still out there somewhere, swimming in starlight, shining like the moon. Her light will continue to make us brighter, and braver, just like it always did."
On Jennifer's Facebook page, one of her friends added a "non-comprehensive list of How To Be More Like Jenn," summarizing the obituary and also adding a few more tidbits. For example, "Go all in on birthday and Christmas packages. Like, seriously. It's not about what you buy, it's about the thought you put into them. Get to know your people. Understand their hearts. Go from there," it reads.
It also links out to a Go Fund Me account, "In Loving Memory Of Our Mermaid Girl," raising money to help her aunt, Deb, and son, who also lost his father "weeks ago," "transition financially into their new life together." So far, the account has raised nearly $25,000.