Instagrammer Claps Back After Someone Asked How She 'Landed' Her Husband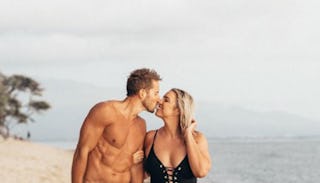 Image via Lindsey Roman
Instagrammer claps back after asked how she landed her husband
The internet can be a bad, bad place. So bad in fact, that someone once slid into photographer Jenna Kutcher's Instagram DMs and asked her how she nabbed such a good looking husband. *Cue head exploding.* Kutcher handled the negativity perfectly, though, and her response is a master class in positivity and self-love.
Kutcher took to Instagram to share all her thoughts on the mean comment she received about her relationship. "Someone once slid into my DMs and told me they couldn't believe I had managed to land a guy as good looking as @kickingitwithkutch," she began. "I'll be honest that I was taken aback."
The photographer went on to explain that she already has a lot of self-esteem issues when it comes to being married to her husband.
"Part of my insecurity with my body has stemmed around being married to Mr. 6-Pack himself," she wrote. "Why should I, a curvy girl get him? I feel unworthy and when I write narratives in my head that because I am not thin, I don't deserve him."
Thankfully, Kutcher's husband makes her feel damn good about herself — and AMEN to that.
"This man has embraced every curve, every dimple, pound and pimple for the last ten years and has always me reminded me that I'm beautiful even when my inner dialogue doesn't match," she said.
She finished off by saying that, yes, she doesn't look like a stick thin barbie (because, I mean, who even does?) and that really, really doesn't matter.
"My thighs kiss, my arms are big, and my bum is bumpy but there is just more of me for him to love and I chose the man that could handle alllll that," Kutcher wrote. "I am so much more than my body, so is he, and so are you."
Yes, yes, YES to all that. So much applause to this couple who clearly have a beautiful, healthy relationship. Seriously – just look at them together.
https://www.instagram.com/p/BfrfV0xBwKb/?taken-by=jennakutcher
Here's to being the bigger person, and handling negativity with positivity. I honestly probably would have tried to mail a Horcrux to that person's house.