Just In Time For Pride, Instagram Finally Adds More Inclusive Gender Options 
by Madison Vanderberg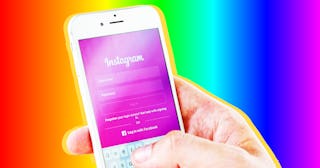 Scary Mommy and energepic.com/Pexel
Instagram finally embraces their gender non-binary users with more inclusive gender options
Until this week, the only gender options on Instagram were either "male, female, and not specified." This meant that gender non-binary individuals could only choose "not specified," which is insulting because their gender is specified, they're non-binary.
Just in time for Pride month, Instagram finally rolled out more inclusive gender settings so now users can choose between male, female, and custom — and in the custom field, you can literally write-in the exact way you want to be identified.
Instagram says this update will ensure the platform "is more inclusive and reflective of how people self-identify today."
This is a long overdue update as Facebook (Instagram's parent company) added inclusive gender options in 2014. Tinder added 37 gender identities in 2016 and more recently expanded the sexual orientation identifiers — which now includes orientations like asexual, demisexual, queer, and questioning. Similarly, Lyft recently added gender neutral prounouns to the rider app, so drivers can use the rider's correct pronouns when they hop in the car.
In fact, Instagram users had been trying to get through to the app for a while regarding this exact topic.
"When are you adding more gender options?" one Twitter user wrote in April 2019. "Or do you only want cis people using your platform?"
In addition to the expanded gender options, Instagram went even further for Pride month and unveiled glorious rainbow hashtags for a number of trending Pride-related tags like #lgbt, #bornperfect, and #transequalitynow.
Also, if you haven't noticed, anyone using LGBTQ-related hashtags in their IG Stories now has a rainbow-colored "story ring," like this:
Instagram isn't the only large corporation celebrating Pride month this year. Target recently unveiled rainbow-tastic Pride merch (including kid's clothes) and is donating $100,000 to GLSEN, a non-profit that advocates for safe, inclusive schools.
Disney also dropped the cutest rainbow merch for Pride month and will also donate proceeds to GLSEN.
It's important to see brands and corporations not just selling colorful shirts and adding rainbows to Instagram Stories, but actually celebrating LGBTQ+ individuals by making thoughtful and necessary additions to their platforms like inclusive gender options.
We're glad Instagram finally added more gender options, we're glad that brands are celebrating Pride month with merch, but to quote Target's salient press release: "pride doesn't just start and end in June, it is a year-round commitment."