'Make The Invisible Visible': Instagram Debuts Video Channel For LGBTQ Youth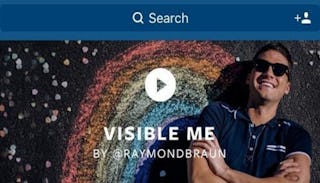 Image via Instagram
Instagram's new video channel #VisibleMe aims to support and encourage LGBTQ youth
In an amazing game changer for LGBTQ youth, Instagram recently debuted a new channel, the first of its kind, exclusively to support them called #VisibleMe. The channel is full of videos encouraging LGBTQ youth and showing them they're never alone. This channel is the first of its kind and will give voice to the platform's young, queer users.
According to Huffpost Queer Voices, #VisibleMe was created in conjunction with activist Raymond Braun. In an email, he says, "Every day, I am impressed by the creativity, passion, diversity, intelligence and resilience I see from LGBTQ youth on social media. People are more likely to support the LGBTQ community when they know someone who identifies as LGBTQ, so I hope this project provides a platform and voice for young people to create change, helping them feel empowered, supported and visible."
His Instagram post explaining the aim of the new channel further elaborates his vision.
Calling it "the most meaningful project in my life," Braun explains his goals for the channel — for LGBTQ youth to feel "empowered and supported" as well as showing them they're not alone. The value of that last point can't be overestimated. LGBTQ teens are more likely to commit suicide than other youth and experience increased rates of bullying, depression and academic and family-related difficulties. The channel includes videos from several faces in the LGBTQ community lending encouragement and kind words. After watching them, you'll begin to understand what this effort could mean to LGBTQ teens who feel alone and ostracized. It's amazing.
For LGBTQ teens who feel no one will understand or accept them if they come out to their family and friends, this channel full of supportive messages could prove invaluable. When kids are in junior high and high school, their world is so small. They may have trouble believing that there is anything beyond their little circle where they might find people they can more easily identify with and befriend. #VisibleMe could help drive that point home — that if things feel difficult now, it does get better. And you do have people who will love and support you, unconditionally.
It's incredible the resources our kids have available to them because of the internet and social media. Even 10 years ago, LGBTQ teens didn't have the wide-spread acceptance and visible allies that they do now and there's every reason to believe it will keep getting better. We never want kids to feel alone, no matter their gender or sexual orientation. Projects like #VisibleMe can be one more positive voice in the lives of LGBTQ youth and hopefully, more sources of support like this will surface in the coming years.
This article was originally published on