Introducing SCARY MOMMY SPEAKS
by Team Scary Mommy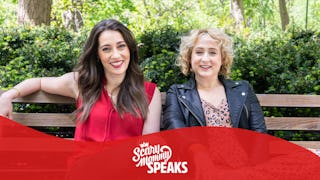 Check out this all-new podcast from your favorite mother talkers!
Everything you love about Scary Mommy is now available live in a new podcast for women who are owning motherhood and all its glory, pain, and playdates. Don't miss out on the conversation – Scary Mommy Speaks!
From parenting techniques to playground drama to post-baby sex, no topic is off limits for hilarious hosts Ashley and Keri. It's real talk from real moms raising real kids, as they debate trending topics, answer callers, and tackle the good, the bad, and the funny of motherhood. All with the Scary Mommy style that tells it like is and takes no sh*t. Plus, hear from special guests and Scary Mommy faves like Madge the Vag, who gives you the low down on everything vag and OG Mom, a mom who keeps it real.
If you're looking for a podcast for moms who haven't stopped being women, where no topic is off limits, from girl talk to baby talk to trash talk, shop talk, small talk, sex talk, real talk and whatever other kind of talk there is, Ashley and Keri are talking about it on Scary Mommy Speaks. This is a podcast that is every mom's voice.
Interviews every episode include real moms, experts and celebrities. Are you excited yet? The best part? It's a podcast, so you can listen to it when you're multitasking a million other things!
Episodes drop on Wednesdays!
Listen and Subscribe Now:
APPLE PODCASTS » GOOGLE PLAY » Or wherever you listen to podcasts!
Brought to you by the #1 media and entertainment brand in the country, Scary Mommy Speaks drops a new episode every Wednesday. So make sure you listen to (y)our mothers!
This article was originally published on