Is Patrick Dempsey Really Getting Fired?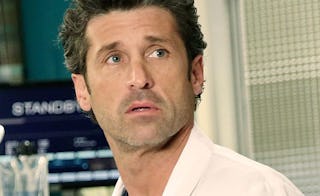 Is 2015 Patrick Dempsey's worst year ever? First his wife filed for divorce (there's no pre-nup, btw) after 15 years of marriage. Then he lost his mom to cancer. Now come rumors that Dr. Shepard is on the verge of being kicked out of Seattle Grace for good.
And yes, Grey's Anatomy is still on the air, in case you didn't know.
According to Page Six—which dubbed the actor "Diva Dempsey"—McDreamy's on-set demands have placed him at the top of show creator Shonda Rhimes' shit list, which we all know is the first stop on the road to unemployment.
See also: Katherine Heigl, Isaiah Washington, Columbus Short.
"Patrick has been acting like a diva and has clashed with Shonda," said a "show source." "She suspended him for a while, and the word on set is that he isn't coming back full time." For the record, GossipCop has Dempsey's rep saying the rumors are not true.
Grey's debuted back in 2005, but I stopped watching it around the time of that big plane crash ep in Season 8 that felt like a rip-off of Lost. What? I stuck it out through the whole Denny-is-a-ghost thing didn't I?
Anyway, we're now in Season 11. And as per Page Six, Rhimes and Dempsey have been clashing for a while. Dr. Shepard was apparently written out of the show last November when Rhimes shipped him off to a job in D.C., only bringing him back to Seattle Grace for a few sporadic appearances.
If you are thinking this is just like that time Aaron Spelling shipped Brenda Walsh off to college in Minnesota for a few episodes, then you are totally my spirit animal.
Meanwhile, the episode guide on the ABC wesbite tells me there was another plane crash on Grey's last week (!), and another major cliffhanger, natch, when it's revealed at the end of the ep that Dr. Shepard is missing and there's been a big fiery car crash.
Of course, it's not really a cliffhanger when the previews for tonight show McDreamy alive and well and saving the day as per usual. How long that will last, however remains to be seen.
Stay tuned.
This article was originally published on