Ivanka Tweets Support For Oprah's Speech, Has Apparently Forgotten Who Her Father Is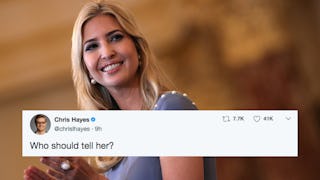 Image via Win McNamee/Getty Images
Twitter immediately reminded Ivanka why her tweet made little sense
After Oprah Winfrey's stirring speech that brought down the house at Sunday night's Golden Globes, the internet's been abuzz with both praise for her words and talk of the self-made billionaire running for president in 2020. Her acceptance speech for the Cecil B. DeMille Award was all about the end of the an era — the dawn of a new day where sexual harassment and assault would no longer be tolerated.
Which is why Twitter is totally confused that Ivanka Trump, daughter of Donald "Access Hollywood Tapes" Trump, is eagerly supporting Winfrey's message.
The Time's Up movement, sparked by a group of powerful Hollywood women who want to help fund legal proceedings for women and men who experience sexual harassment and assault, was given a huge boost in visibility Sunday night when stars showed up wearing black and used much of their red carpet interview time and award acceptance speeches to speak to the cause. Even the first daughter was wowed by Winfrey's powerful speech where she called for an end to the time when this kind of behavior was swept under the rug.
Trump's tweet reads, "Just saw @Oprah's empowering & inspiring speech at last night's #GoldenGlobes. Let's all come together, women & men, & say #TIMESUP."
Is she kidding?
Needless to say, Twitter is extremely entertained by her enthusiastic endorsement for Oprah's speech considering its subject matter.
Winfrey's words were pretty much all about Ivanka's father and men like him — and why they're all going down. She condemned sexual assault and harassment while also tossing out a barely-concealed barb at the president and his well-known attacks on the media. "We all know that the press is under siege these days, but we also know that it is the insatiable dedication to uncovering the absolute truth that keeps us from turning a blind eye to corruption and injustice. To tyrants, and victims, and secrets, and lies."
It seems Ivanka might be a bit of a lost lamb, or she's even dumber than any of us ever could've guessed.
Or maybe she's even more of an evil cartoon villain than her dad.
Whatever the case, Twitter had jokes.
She honestly must think we're all idiots. Or she's an idiot. Either way, this is extremely interesting.
Alyssa Milano has a good idea.
And Chrissy just wants her to GTFO. This is why we love you, Chrissy.
No one's letting Trump get away with being this tone-deaf and ignorant.
https://twitter.com/jetpack/status/950721728782708736https://twitter.com/jetpack/status/950561519615512579
She's either in serious denial or hoping we're all dumb as hell. Either way, no sweetie. Just… no.
This article was originally published on