New Zealand PM Jacinda Ardern Makes Shooter 'Nameless'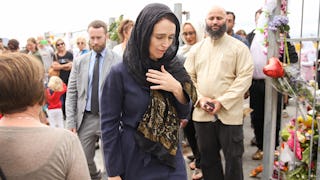 Image via Hagen Hopkins/Getty Images
To New Zealand Prime Minister Jacinda Ardern, the mosque shooter will always be a terrorist, without a name
New Zealand Prime Minister Jacinda Ardern opened her first address to Parliament since the Christchurch terror attack with a statement about the horrifying mass shooting that has brought her country to a standstill. While she gave attention to the brave men and women at the shooting as well as those who responded to the attack to help, she had few words for the shooter himself, and none of them were the man's name.
"He sought many things from his act of terror, but one was notoriety, and that is why you will never hear me mention his name," she said. "He is a terrorist. He is a criminal. He is an extremist. But he will, when I speak, be nameless. And to others, I implore you, speak the names of those who were lost rather than the name of the man who took them."
"He may have sought notoriety, but we in New Zealand will give him nothing — not even his name," she continued.
"The families of the fallen will have justice," she added.
Ardern opened her speech by saying, "One of the roles I never anticipated having, and hoped never to have, is to voice the grief of a nation."
Then she made a strong statement about how New Zealand is a welcoming, tolerant country, both to people of differing religious views and to immigrants.
"They are New Zealand," she said. "They are us."
Ardern ended her speech with the Arabic greeting, "Al salam Alaikum," which means, "Peace be upon you" in Arabic.
Last week, a 28-year-old Australian man opened fire on Muslim crowds praying at two mosques, murdering 50 people, and injuring another 50 more, 9 critically. He streamed the violence live on Facebook, and shared his message of intolerance, violence, and racism in a manifesto he posted online just before the attack. He was arrested and has been charged with murder, with more charges likely to follow in the coming days.
On Saturday, Ardern visited Christchurch's Muslim community to grieve with them. She wore a hijab, as a symbol of solidarity and acceptance.
Ardern, along with support from the New Zealand government, has pledged to change the country's gun laws, especially since the gunman seems to have bought his weapons legally. They were reportedly semi-automatic guns, modified into automatic weapons. While the specific changes to the gun laws haven't been decided or drafted, she is confident she has the support of most of the country, including gun owners.
She also vowed to look into the role of social media and technology, before, during, and after the shooting.
"We cannot simply sit back and accept that these platforms just exist and that what is said on them is not the responsibility of the place where they are published. They are the publisher. Not just the postman. There cannot be a case of all profit no responsibility," she said.
People around the world have been applauding Ardern, and the country's response to the attack, from her strong statements against racism and terrorism, to her embrace of the Muslim and immigrant community, to the government's swift decision to make changes to prevent this from happening again – so above and beyond thoughts and prayers.
She was elected to her position in 2017, at the age of 36.