Exceptional High School Junior Already Has 33 Full-Ride Scholarship Offers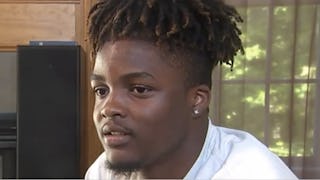 Image via ABC 11
He was also accepted by every Ivy League school
Most high schoolers struggle with filling out their applications, and are hopeful to get into one or two of their choices. This special kid has a different dilemma.
He has way too many options.
Jahmir Smith says he's never had a particular college in mind, but it's clear after being accepted by all eight Ivy League schools and receiving 33 full-ride scholarship offers that they've been thinking about him.
The Huffington Post has the story on Jahmir, a student at North Carolina's Lee County High School. Smith's 4.43 GPA and high ACT scores have him on seemingly every top college's wish list.
Did we mention he's also being sought after by multiple Division I college football coaches? The Raleigh News and Observer reports that he's received hundreds of texts from coaches hoping to entice him to join their programs. After scoring 41 touchdowns and running 2,130 yards in one season, the News and Observer made him a 2016 News & Observer's Metro Football pick.
Smith credits his mother with his success.
"She raised me through all the hardships she faced and helped me stay on track to [get] where I am today," he tells Huffington Post. "Without her I don't know where I'd be now."
It's clear she raised a son with more than just book smarts, as Smith knows football may be lucrative but isn't his ultimate ambition.
"It's fast money," he acknowledges, "But I don't want it as a career because it would take a toll on my body."
Despite his accomplishments and incredibly bright future, Smith isn't letting his multiple scholarship offers and seemingly limitless choices go to his head.
"I mean, my mom tells me how rare it is, but I mean, it's whatever to me," the humble teen tells News & Observer. "I mean, I know it's a big deal, but I don't brag about it."
With humility like that, we wouldn't be surprised if his offers increase. We might start a college just to see if he'll come over and hang out with us for a little while. As it stands, he plans to pick a school by next month, which means 32 schools will be left sorely disappointed.
Despite the deluge of offers, Smith is still hoping to get a scholarship from Clemson, the defending NCAA Division I national champions. Something tells us he won't be waiting long.
This article was originally published on