Jameela Jamil Shares Pic Of Her Cellulite To Remind Us It's 'Totally Normal'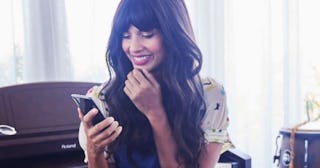 Jameela Jamil/Instagram
Her latest social media post encourages us to celebrate our #babebumps
In a world of social media filters and photo editing apps, self love can be a bit complicated. Most of us have a false ideal of what beauty is based on what we see on the internet: flawless skin, thin limbs, bountiful butts and perky breasts. In fact, scrolling through social media sites like Instagram and SnapChat has been scientifically proven to have a negative impact on our self-esteem. The ironic thing is, many of the photos uploaded onto feeds aren't untouched, and are a completely inaccurate portrayal of what people actually look like. Enter body-positivity queen Jameela Jamil to bring us back to reality.
In this crazy time we are living in, Jamil has been such a kick-ass body confidence advocate. She calls out celebrities on their shit — whether due to them airbrushing a photo or slinging some diet pill or tea, shares images of her own "imperfections," and constantly encourages us to love ourselves just the way we are — cellulite and all.
In her latest social media post, The Good Place star offers up a body confidence boosting challenge for all the ladies out there: show off your dimpled flesh with pride.
"All girls have cellulite," she wrote on Instagram, along with an image of her own, unairbrushed legs. "Often even new born babies have it. It's totally normal, and not a failure of any kind." She goes on to make a statement that celebrities, advertisements and magazines "have GOT to stop editing this stuff out." Finally, she added the tag "babebumps," and her challenge: "Tag someone who has been hating on theirs."
Her followers totally went wild about her latest statement, and rightfully so. Some thanked her for being such a fierce role model, while others shared their own stories. Many, including actress Tracee Ellis Ross, opted to tag themselves.
This isn't the first time Jameela has encouraged women to celebrate cellulite. Earlier this year she coined the term "babe bumps" in a super refreshing post. "Even the bits you were told were 'wrong.' They aren't wrong, they're fucking normal. They're human. Thank your body today. It's your friend. Whether or not fashion and film told you it is," she wrote in the caption, flaunting her gorgeously un-retouched legs.
She also started the "I weigh" movement on Instagram, encouraging women to view their weight by the things that make them value — not by that number on the scale.
Thank you for keeping it so real and reminding us that we are all beautiful creatures, Jameela. By encouraging us to love ourselves, we can hopefully do the same for our children.