Jameela Jamil Calls Karl Lagerfeld A 'Ruthless, Fat-Phobic Misogynist'
by Cassandra Stone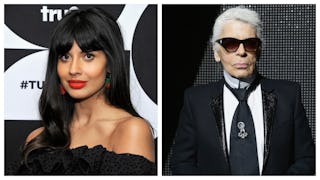 Image via John Sciulli/Stringer/Vittorio Zunino Celotto/Getty
Jamil calls out Lagerfeld for what he was: an as*hole
Chanel designer Karl Lagerfeld died on Tuesday this week, and social media has been full of models and celebrities alike paying tribute him. Everyone, that is, except Jameela Jamil, who wasted no time in calling him out when many others were singing the late designer's praises.
While it's likely not a shock to anyone that an esteemed fashion designer would make disparaging remarks about women who aren't rail-thin, it's no excuse for some of the interviews he's given in the past. The German designer has made equally problematic remarks about Jewish people, the #MeToo movement, and women in general.
So when Jamil saw everyone around her posting their tributes to Lagerfeld, she decided to go… another route. Referencing an essay entitled "Stop Mourning Your Oppressors: Anti-Condolences for Karl Lagerfeld" written by Lara Witt, Jamil went all in. And honestly? GOOD FOR HER.
"Rather than separating the art from the artist, I think it is time that fashion come to terms with Lagerfeld's abhorrent comments — the first thing to do would be to admit that they exist and that commentary continues to be harmful and that the designer's beliefs only affirmed the feelings and ideologies of millions who hate people whose bodies fall outside of the white supremacist, misogynistic, ableist norm," argues Witt in her essay — quite brilliantly.
The thing about people dying — both famous and non — is that after their death, so many rush to glorify them even though there isn't any such thing as a non-flawed human being. Some more than others. And just because someone might have been extremely successful in their career doesn't mean they didn't damage many people along the way.
A lot of Twitter users agree with Jamil and Witt, with many noting that it's not too soon to speak up about Lagerfeld's problematic stances.
Jamil, who is most notably famous for portraying Tehani on NBC's amazing, binge-worthy show The Good Place, has been using her platform for good lately. She's very vocal about body positivity and trying to make the world a more inclusive place for women of all backgrounds and sizes.
Some critics have noted it's difficult to take a woman who is, for all intents and purposes, very traditionally beautiful and thin seriously. Say what you will, though, because Jamil gets results. She got Avon, an enormous, world-famous company, to take down a fat-shaming ad about cellulite, by calling them out on Twitter. She also regularly calls out the dangerous, harmful "detox teas" and the celebrities who peddle them on Instagram, which is pretty badass.
She's not afraid, and she's utterly unapologetic about sharing her views and using her celebrity to call out the people who, quite frankly, deserve it. It's hard to not be on her side on the Lagerfeld debate when you read that he once said the following about sexual harassment in the workplace: "If you don't want your pants pulled about, don't become a model! Join a nunnery, there'll always be a place for you in the convent. They're recruiting even!"
Last year. He said that LAST YEAR. Not in 1962. 2018. He also once charmingly referred to women who are critical of ultra-thin supermodels as "fat mommies who sit in front of the television with potato chips." Oh, and that "no one wants to see curvy models."
Jamil later took to her Twitter account to say she perhaps could have waited a few days before talking about Lagerfeld, but doubled down on how she feels about him.
He might be dead, and people are allowed to feel sad about that. But he was also an asshole, and people are allowed to say that, too.