A 9-Year-Old Boy Died By Suicide After Being Bullied For Coming Out As Gay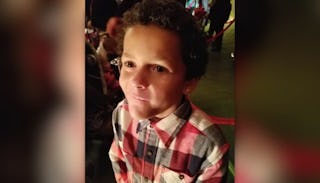 Image via Fox 31 News
He was bullied at school after telling classmates he was gay
Over the summer, nine-year-old Jamel Myles told his mom he's gay. Now, after only four days back at school, he's died by suicide after classmates bullied him for coming out.
Myles was a fourth grader at Joe Shoemaker Elementary School in Denver, Colorado. His mom, Leia Pierce, tells Fox 31 News that her son was nervous to come out to her this summer. "And he looked so scared when he told me. He was like, 'Mom I'm gay.' And I thought he was playing, so I looked back because I was driving, and he was all curled up, so scared. And I said, I still love you."
Last Thursday, only four days into the new school year, her son died in their home. "Four days is all it took at school. I could just imagine what they said to him," Pierce said. "My son told my oldest daughter the kids at school told him to kill himself. I'm just sad he didn't come to me."
Kids at school told a fellow classmate to kill himself. For coming out as gay. There are no words for how horrifying this is.
Heartbreakingly, Myles was excited to tell his friends that he was gay once the new school year began. "He went to school and said he was gonna tell people he's gay because he's proud of himself," says Pierce.
Denver Public Schools sent a letter home to district parents to explain what happened to Myles and to share that the school will be providing a crisis team and social workers for students. "I'm so upset that he thought that was his option," says Pierce.
Pierce tells The Denver Post that her son was "the kindest soul" and that he wanted to become a YouTube star so he could buy his mom a new house. "My child died because of bullying. My baby killed himself," she says. "He didn't deserve this. He wanted to make everybody happy even when he wasn't. I want him back so bad."
The grieving mom wants her son's death to shed light on bullying — and the need to hold both kids and their parents accountable. "We should have accountability for bullying. I think the child should. Because the child knows it's wrong. The child wouldn't want someone to do it to them. I think the parent should be held because obviously the parents are either teaching them to be like that, or they're treating them like that."
If you or someone you know is considering suicide, please contact the National Suicide Prevention Lifeline at 1-800-273-TALK (8255).