James Corden Summed Up 7 Seasons Of 'Game Of Thrones' In One Epic Rap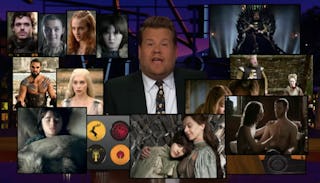 Image via YouTube/James Corden
All seven seasons wrapped up in one four-minute video
If you've ever watched The Late Late Show with James Corden or seen his Carpool Karaoke segments, odds are you've fallen in love with his quick wit, self-deprecating personality, and infectious laugh. If you've ever watched Game of Thrones, you've fallen in love because, duh. So, what could be better than Corden getting fans prepped for the big final season premiere airing this Sunday? Nothing, that's what.
Unless you live under a rock, you know Season 8 of Game of Thrones is upon us. While fans have been waiting on pins and needles since 2017 for it to start, it's a bittersweet moment that this is the final season. You also know trying to remember the details of all 67 episodes before Sunday's premiere is a daunting task and unless you started watching the series again some time ago, you're gonna need to play catch-up real quick. Enter James Corden, who takes us through all seven seasons in an epic rap sesh.
He wraps (and raps) the drama of the show up pretty nicely, including some of his famous wit to keep things interesting. From Season 1: "There's Rob, Arya, Sansa, and Bran. Did Daenerys just marry Aquaman? All of these houses it's hard to keep straight. Did that kid just breastfeed? I swear he's like eight."
Season 2 was just as on point, with Snow meeting the Wildlings ("one who was hot") and introducing the Whitewalkers, but he couldn't let it go without at least one Trump dig. "The bad guys marched south to make mankind fall," he sang. "But unlike Trump, the North has a wall." He also made sure we all remembered which characters were "missing their junk," but it's best to just watch it all unfold.
I don't know about you, but I have to hit pause about 12 times an episode as I'm watching to ask my husband what the hell just happened or "who is that now and which family are they from?" We've even had to phone one of our friends (who has read the series several times) to please whiteboard how exactly Jon Snow and Daenerys Targaryen are related (since they had sex and all). He created this handy, dandy family tree including who was married to whom and who is now dead. You are welcome.
Corden rapped Season 3 with more hilariousness, including lines like, "Jon Snow got promoted, which made us all cheer. Stannis won't win father of the year." He makes it through the next four seasons and the entire thing takes just four minutes, which is pretty impressive. What's more remarkable is that the staff member, Lawrence Dai, who wrote the rap for Corden did so after watching 67 hours straight of the series he'd previously not seen before.
Corden concluded the epic rap by saying, "For fans of the show, the haze is starting to clear. In just four more days, winter is here." We. Can't. Wait.