Heroic Man Without A Gun Stops Waffle House Shooter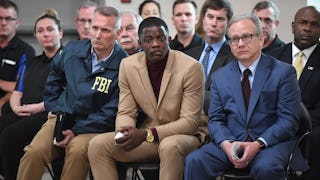 Image via Jason Davis/Getty Images
James Shaw Jr. wrestled the gun away from the shooter, saving countless lives
James Shaw Jr. was at a Nashville, Tennessee, Waffle House early Sunday morning when a man entered with an AR-15 semiautomatic rifle and started firing. The gunman took four lives during his rampage, but the situation could have been significantly worse, except that Shaw, unarmed, tackled the shooter, grabbed his gun, and threw the man out of the restaurant.
The world is calling the 29-year-old Shaw a hero, but the soft-spoken father and electrician technician insisted that he was "not a hero" just a "regular person," at a press conference on Sunday. His humble attitude didn't end there: "I don't want people to think that I was the Terminator or Superman or anybody like that," he said according to a CNN report. "I figured if I was going to die, he was going to have to work for it."
The incident took place at 3:25 a.m. at the Anitoch Waffle House outside of Nashville, where Shaw Jr. was eating with a friend after a night out. The Nashville Police Department say that Travis Reinking opened fire outside the restaurant with a rifle, naked except for a green jacket. After shooting two people outside, he continued inside, where he opened fire again.
Shaw said that he at first thought the noises were breaking dishes, but then the front window shattered and he spotted the man with the gun. He sought cover behind the door of the bathroom, but was still grazed by a bullet. Moments later, he saw the gunman pause and that's when he took his chance. He hit the man with the door, tackled him, and wrestled away his gun, throwing it over the counter and out of reach. He then hauled the man outside, where he ran from the scene.
Shaw was treated at the hospital for a gunshot wound as well as burns on his hand that he received from touching the hot barrel of the gun moments after it fired.
Shaw, who has a four-year-old daughter named Brooklyn, told the Tennessean that he cried in the ambulance on the way to the hospital as a technician was taking his blood pressure.
"He asked if I had kids," Shaw Jr. told the paper. "I thought I could have possibly never seen my daughter again. That hurt."
When asked at the press conference if he thought he had it in him to stop a gunman, or if he had any military training, he mentioned his little girl again: "Yeah, I knew I had it in me. I haven't had any specific combat training," he said. "I just fight my daughter every night, so I can put her to bed."
"I'll say it again: I didn't really fight that man to save everybody else," Shaw said at the conference, shrugging off praise. "I know that might not be a popular thing, but I'm really honest. I'm going to be honest to the core: I took the gun so I could get myself out."
But those on the scene say there's no denying what he did. "He is the hero here, and no doubt he saved many lives," said Nashville Police spokesperson Don Aaron.
Nashville Mayor David Briley called to thank Shaw for his heroism, and Shaw responded by asking the Mayor to join him for church on Sunday morning. He agreed, and the pair, along with Shaw's friends, family, and several of his fraternity brothers, went to the church that Shaw has been attending since he was a baby–just hours after the shooting and his hospitalization.
Shaw's heroism comes after a rash of mass shootings involving the controversial AR-15 semi-automatic rifle, which the shooter acquired despite a long history of mental health issues and run-ins with police. It also comes after pro-gun groups claimed that the only thing that could stop a bad guy with a gun is a good guy with a gun.
The alleged shooter is still on the loose. A manhunt is underway as authorities track the suspect across Tennessee.
Meanwhile, just a day after the shooting, Shaw as started a GoFundMe fundraiser for the victims and their families. It's already raised over $20,000.
This article was originally published on