Jamie Lynn Spears Tearfully Breaks Silence On Britney's Conservatorship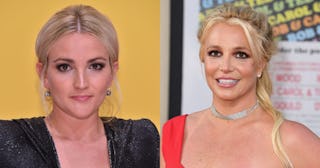 Michael Loccisano/ Steve Granitz/Getty
Britney Spears' younger sister, Jamie Lynn, addressed the public in a series of videos on Instagram Stories
After Britney Spears issued a heartbreaking plea to both the judge and the public in last week's conservatorship hearing on her behalf, fans have been wanting to hear from other members of the Spears family — especially since they seemingly control many aspects of her finances and daily life.
Her younger sister, Jamie Lynn Spears, has been largely silent, save for limiting comments on her Instagram page in the wake of Britney's court appearance, until now. The 30-year-old took to Instagram Stories on Monday, June 28, issuing a tearful explanation for why she hasn't supported Britney "the way the public would like [her] to with a hashtag on a public platform." She seemingly alluded to the #FreeBritney movement, whose growing scrutiny and public commentary about the singer's 13-year conservatorship is credited with helping her case move through the court system and attract worldwide attention on conservatorship abuse, both in Britney's case and others.
"I just want to take a second to address a few things," she began. "The only reason I hadn't before is because I felt like until my sister was able to speak for herself and say what she felt she needed to say publicly that it wasn't my place and it wasn't the right thing to do. But now that she's very clearly spoken and said what she needed to say, I feel like I can follow her lead and say what I feel I need to say."
She continued, "Since the day I was born, I've only loved adored and supported my sister. I mean this is my freaking big sister, before any of this bullshit. I don't care if she wants to run away to a rainforest and have zillion babies in the middle of nowhere, or if she wants to come back and dominate the world the way she has done so many times before, because I have nothing to gain or lose either way." She added, "This situation does not affect me either way, because I'm only her sister who's only concerned about her happiness."
Jamie Lynn did not mention, however, that in 2018 she was made a trustee of Britney's estate, and in 2020, she petitioned to control a trust that Britney set up for her children before they were born in 2004, a move which would make her in control of the funds upon Britney's death. So she does have financial control over some of Britney's fortune, a fact she declined to discuss during her video plea.
Fighting back tears, Jamie Lynn said that she's "made a very conscious choice" to "only participate in her life as her sister" and as an aunt to Britney's two teenage sons. "I paid my freakin' bills since I was 10 years old. Not that I owe the public anything, because my sister knows I love and support her… I'm not my family. I'm my own person. And I'm speaking for myself," she said.
Addressing why she never showed public support for the #FreeBritney movement on social media, she said, "Maybe I didn't support the way the public would like me to with a hashtag on a public platform but I can assure you that I support my sister long before there was a hashtag and I'll support her long after."
Jamie Lynn says she's "so proud of [Britney] for using her voice," adding, "I'm so proud of her for requesting new counsel like I told her many years ago — oh, not in a public platform but just in a personal conversation between two sisters."
She concluded, "If ending the conservatorship and flying to Mars or whatever the hell else she wants to do to be happy, I support that 100% because I support my sister; I love my sister. Always have, always will. As long as she's happy. So let's keep praying. That's all."