Jamie Lynn Spears Breaks Her Silence In Support Of Her Sister
by Kristine Cannon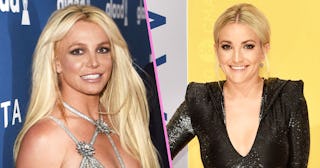 J. Merritt/John Shearer/Getty
She called out the media, saying, in part: 'Do better'
It's a busy day of #FreeBritney news.
Not only has Justin Timberlake broken his silence in response to the The New York Times documentary, Framing Britney Spears, taking to Instagram to post a long-overdue apology — written from the Notes app on his iPhone, no less — to Britney Spears and Janet Jackson for, you know, being an ass to say the least; but Spears' sister, Jamie Lynn Spears, has also broken her silence in support of Britney. And the statement Jamie Lynn made rightfully calls out the media for the role it played in her sister's life.
On Friday, Jamie Lynn took to her Instagram Story to share a quote that reads, "Everyone you meet is fighting a battle you know nothing about. Be kind. Always." And above it, she wrote, "Dear media, try not to repeat the mistakes of your past. Look where that got us. Do Better."
For those who didn't watch the documentary released Feb. 5, what Jamie Lynn is referring to is the many ways the media tarnished her sister's reputation in the early aughts. Take, for instance, Diane Sawyer's shockingly misogynistic, accusatory 2003 interview with Britney, which actually opened up with the words, "Ladies and gentlemen, the most valuable square inch of real estate in the entertainment universe." Oh, right, and how could we forget that Sawyer also boldly asked Britney about her virginity?
Jamie Lynn's post also comes just hours before the media falsely reported that she attended a #FreeBritney rally over Zoom on Thursday.
"A few media outlets ran a false story about me attending a virtual rally yesterday," Jamie Lynn wrote on her Instagram Story. "In fact, someone represented themselves as me without my knowledge. I love my sister very much, but I was not aware of a rally, nor was I in attendance for a virtual rally."
A day prior to Jamie Lynn's posts, Britney's conservatorship case went before the court; and it was here that Los Angeles Superior Court Judge Brenda Penny ruled that Bessemer Trust Company will continue to be co-conservators along with Britney's father, Jamie Spears, People reports. Bessemer Trust Company is a wealth management and investment advisory firm based out of California.
And earlier this week, Britney's boyfriend Sam Asghari also broke is silence, stating that he's "always wanted nothing but the best" for Britney, whom he calls his "better half."
"… and [I] will continue to support her following her dreams and creating the future she wants and deserves," he continued in a statement he shared with People, exclusively. "I am thankful for all of the love and support she is receiving from her fans all over the world, and I am looking forward to a normal, amazing future together."
This article was originally published on