'You Don't Need To Feel Alone': Jana Kramer Shares Heartbreaking Miscarriage News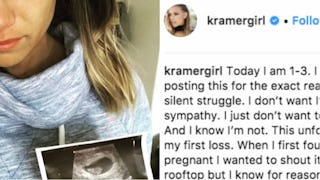 Image via Instagram/Jana Kramer
The One Tree Hill alum shared her story in an emotional Instagram post
Many times when women experience a miscarriage they suffer in silence. They feel they have to keep their loss and grief a secret as to not make others around them uncomfortable. Thankfully, in recent years more and more women are breaking that silence, just as Jana Kramer so bravely did this week.
The actress and country music singer revealed her miscarriage in an emotional Instagram post. The picture of her holding up the ultrasound photo is heartbreaking.
"Today I am 1-3," she writes. (She's referencing the statistic that 30 percent of women miscarry after implantation.)
"I don't want 'I'm sorry' or sympathy. I just don't want to feel alone. And I know I'm not," she writes.
This is exactly what breaking the silence and the stigma around loss does – it helps women collectively grieve together and not be alone in their feelings. It helps them not feel stigmatized and isolated.
"This unfortunately isn't my first loss," Kramer reveals. "When I first found out I was pregnant I wanted to shout it from the rooftop, but I know for reasons like this we have to wait."
She admits in the past she would suffer silently, but not anymore.
"For the women out there who have miscarried in the past and need support and a place to grieve their little one lost or to those in the thick of it like me who are currently grieving and in pain, let us all be there for each other," Kramer writes. "You don't need to feel alone and maybe that's me talking to myself but if you need a place to share, I'm here for you…"
Kramer is a mom to 22-month-old Jolie Rae and is married to Mike Caussin, according to Us Weekly. The couple had reportedly separated, but are now working on mending the marriage.
Anyone who's suffered a miscarriage knows each one is heartbreaking. And because of the societal stigma, taboo, and silence that's surrounded miscarriage for so long it can feel very isolating, which only compounds the sadness. Speaking out for many women can be powerful because it helps heal.
Kramer concludes her emotional post with this important message: "I love you guys. #yourenotalone"