Jane Lynch And Cyndi Lauper To Make 'Golden Girls'-Style Comedy For Netflix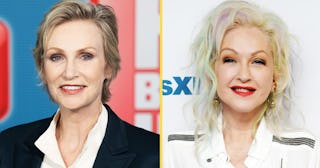 Earl Gibson III/ Ben Gabbe/Getty
The 'Golden Girls' inspired show will be heading to Netflix
Golden Girls fans, please sit down. It seems there may be some new friends coming to town to recreate a "kind of a Golden Girls for today," and the series will star none other than Jane Lynch and Cyndi Lauper. It's time for the girls to have some fun. Fainting commence.
Lynch let the cat out of the bag at the Creative Arts Emmys after winning the Emmy for guest actress in a comedy for The Marvelous Mrs. Maisel that the pair were working on something for Netflix. "I pitched a show to Netflix and they bought it," she told reporters. "I don't know if I can even tell you, but it's with Cyndi Lauper, so there! We'll see."
According to NBC, writer and comedian Carol Leifer (best known for her work on Seinfeld) is behind the show as well. "It's official, heading out next with a new half-hour comedy, starring Jane Lynch and Cyndi Lauper," Leifer wrote on her Facebook page. "A writer's dream to work with these two legends. Can't wait to see where we land…"
Obviously, the reporters didn't let Lynch off that easy. When they asked her to share more details about the collaboration, the Glee actress and star of the best movie ever, Best in Show, said, "We're our age, I'm almost 60 and she's 65, and we're looking for our next act, without ever having had husbands or children. And there will be two other people who haven't been cast yet." Oh, the possibilities.
Golden Girls was an immediate hit and fans fell in love with the four ladies — Bea Arthur, Betty White, Estelle Getty, and Rue McClanahan — since the show first aired in 1985. During its eight-year run, people began to see themselves in one of the characters, dreaming of someday being able to live with their BFFs in a retirement community and enter into the shenanigans of old age with a crew of pals.
Now, with icons like Lynch and Lauper tied to the project, a whole new generation can get into the new show (and the old, because duh) and see themselves in the likes of Hollywood and 80's music royalty (with incredible acting chops as well). Plus, this is a perfect way to hopefully keep Betty White doing side projects until she turns 112.
With the Golden Girls fame, you can now get everything from Golden Girls PEZ dispensers, granny panties (because who doesn't want one of those faces covering their lady bits), and even all four ladies as Chia Pets to adorn our homes and bodies. Soon, we'll have Lynch, Lauper, and who knows what other big names to decorate with, so there's that to look forward to.
There's been no mention of an air date and Netflix hasn't even confirmed it's happening, but with Lynch and Leifer spilling the beans, we'll just have to dream about who will play what character until more details come forth.
This article was originally published on