Janelle Monáe Wears Vagina Pants In Her New Video And TBH We Want Some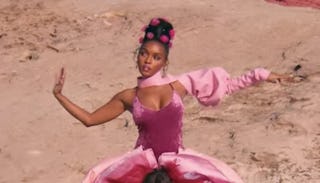 Image via YouTube
The video is a celebration of woman power in the form of song and pants
There are girl power anthems and there are girl power anthems, you know? Well Janelle Monáe is here with her new song, "PYNK" — a wildly unsubtle and amazing ode to everything female.
This ain't your mama's "Girls Just Wanna Have Fun," okay?
This song is about celebrating vaginas — and if you don't believe me, just look at Monáe's ensemble in the song's music video. The writing's on the pants.
"Pink like the lips around your, maybe. Pink like the skin that's under, baby." Yeah, not the most subtle of double entendres. And you know what? We're so here for it. Vaginas have been long due a comeuppance of sorts, and this video certainly does the trick.
Just check out the imagery, if you will.
https://www.instagram.com/p/BhbzhiVBu5l/?hl=en&taken-by=janellemonae
You get vagina pants! And you get vagina pants! TBH, they're kind of gorgeous. Perfect use of ombré. It's also worth noting that a lot of people have been interpreting the pantsless dancers as a nod to anyone who identifies as female but lacks the anatomy. Which just makes this video all the more impactful.
It's inclusive art, it's beautiful imagery, and most of all: PYNK is a total bop.
Naturally, the song (and the pants, if we're being honest) started making major waves online in the best way.
The description for the video says it all, really: "PYNK is a brash celebration of creation. self-love, sexuality, and p*ssy power!" Monáe has long been an advocate for women in music and across industries, and her new PYNK song and yes, her PYNK pants are proof of how important her art really is.
I think we all know what we're listening to at maximum volume during our precious kid-free car rides this summer.