First Woman To Be Treasury Secretary Was Just Sworn In By First Female VP
by Madison Vanderberg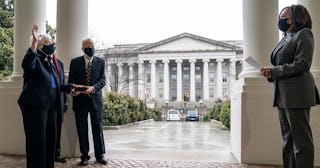 Drew Angerer/Getty
The first woman Vice President just swore in the first woman to become the Treasury secretary
The Biden administration was expected to just get us back to something resembling a normal U.S. presidency, but turns out our boy JB is the ally in shattering glass ceilings we didn't know we needed. President Joe Biden just appointed Janet Yellen as Treasury secretary, making her the first ever woman to hold that office. And on January 26, 2020, she was sworn in by the first woman to be vice president, our girl Kamala Harris.
Per The New York Times, Yellen is the nation's 78th Treasury secretary and the first woman to hold the office in the institution's 232-year history. She's also coming into the role during a fraught economic period with the coronavirus. In her new role, she'll play a key part in Congress negotiations over the huge Covid-19 economic relief package and how to revive our economy in the midst of a pandemic, quite the tall order. Though if anyone is fit for such economic gymnastics, it's Yellen. Yellen isn't just the first woman Treasury secretary, she's also the first woman to have held all three top economic jobs in the government, which includes chair of the Federal Reserve and the Council of Economic Advisers. So she's kind of an economic bad bitch.
After the ceremonial swearing-in, Harris said to her, "Congratulations, Madam Secretary," to which Yellen replied, "Thank you, Madam Vice President." We seriously, love to see it. In a tweet, Harris called Yellen a "trailblazer, whose deep commitment to working families will be essential as we confront the urgent economic challenges facing the American people."
Before her confirmation hearing this week, Yellen tweeted in December that her goal, as an economist, is always to think of the American people first.
"The Treasury Department must be an institution that wakes up every morning thinking about the American people," she said in a televised address. "Your jobs, your paychecks. Your struggles, your hopes. Your dignity. And your limitless potential. We will work to restore that public trust and promise."
She's already better than the last guy to hold the office. Trump's Treasury secretary Steven Mnuchin was a former hedge fund manager and film financier who had never worked in politics prior to the role and was instrumental in implementing Trump's major tax cuts for corporations. So THAT is who Yellen is succeeding. Not only is Ms. Yellen the first woman to do the job, it sounds like she's also the first person to do the job in four years who knows what the hell she's doing.