This Pregnancy App Lets You Create Amazing Time-Lapse Bump Videos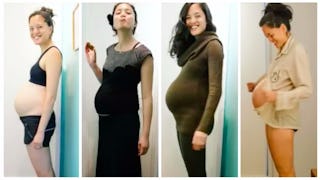 Image via Instagram
Wednesday was #BumpDay, a day where women everywhere are encouraged to post photos of their own baby bumps (past and present) to help raise awareness about the need for maternal health care worldwide. One mom took #BumpDay to new heights with an amazing time-lapse video of her bump-growing progress.
Jasmine Katatikarn, mom of toddler Teagan, developed the app Pregmo, which turns your ordinary bump pics into a gorgeous time-lapse masterpiece.
Katatikarn works in the computer animation industry, and tells Scary Mommy that her job, her love of photography, and her own experience with infertility inspired her to create Pregmo, a free app for mamas-to-be to document their own pregnancy experience.
"I was so grateful when I had gotten pregnant after 6 years of trying that I knew I wanted to document it as much as I could," she says.
She decided she wanted to take a photo of herself nearly every single day during those nine months to cherish the experience and document her daughter's growth. She says with her animation background, turning the photo collection into a movie was a "no-brainer."
"When I shared the movie afterwards, I received so many messages asking me how I created it and how they could make one themselves," she says.
Katatikarn decided then and there she wanted to create an app that would allow "anyone and everyone" to create their own time-lapse movie. Because personal time-lapse videos are just plain awesome. "It truly is such a special thing to have and I wanted everyone to be able to easily create their own. Thus Pregmo was born," she says.
Recently, Katatikarn shared with her Instagram followers the amazing news that she's expecting baby number two in a few months.
We can't wait to see her Baby Time-Lapse, Part 2 starring Mom and big sister Teagan!
This article was originally published on