Here's A Video Of Jason Momoa Throwing Axes Because You Need It
by Thea Glassman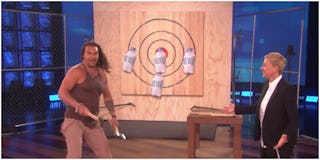 YouTube
Jason Momoa + axe throwing = dreams really do come true
Need a pick-me-up for your long week? We think Jason Momoa throwing axes in a very tight undershirt should probably do the trick. Our shared secret boyfriend was on The Ellen Show this week, putting his very large muscles on display and raising lots of money for charity. So, yes, this is about to be a very thirsty post up ahead and we're not even particularly sorry.
Momoa threw a whole bunch of axes to benefit Sustainable Coastlines Hawaii, a nonprofit that works to to keep Hawaii's beaches clean and help save our environment. He raised a whopping $31,000 thanks to his impeccable throwing skills. The planet is undoubtably thanking him for his contributions and so are we. So are we.
This isn't the first time that Momoa has been a fierce defender of the environment. In April, he shaved his iconic beard to call attention to his new line of canned water Mana Nalu and encouraged people to "make a switch to INFINITELY RECYCLABLE aluminum." It's a great, important step in the right direction. He explained that the cans will be recycled in sixty days, while plastic bottles end up in landfills, which can pile up to 500 billion per year.
"I'm Aquaman now and I have all these little beautiful kids come up to me, and I never thought I'd be a role model," Momoa told DeGeneres."So I wanted to save the planet from single-use plastics."
He definitely, definitely got people's attention. However, the internet didn't handle the whole beard shaving thing well. Like, not well at all.
Willing to take a beardless Jason Momoa any day of the week and also swooning because he cares about our planet? Here's a few more reasons why you should continue dating the actor in your head. Last summer, he unveiled a climbing wall for kids at the LA-based Variety Boys and Girls Club in LA and aimed to introduce 100,000 kids to climbing.
He also has the sweetest relationship with Lisa Bonet (nope, not jealous at all).
Also, Drogo.
Here's to Momoa continuing to save the planet AND to all of us continuing to experience confusing, intense feelings about him.