All The Times Jason Momoa Made Us Fantasize About Being Married To Him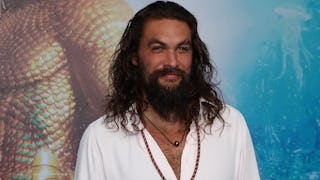 Image via Chris Hyde/Getty Images
This is Jason Momoa's year — we're just living in it
While 2018 wasn't the best of times for some folks, Jason Momoa had A Year. When he wasn't causing moms everywhere to offer to take their kids to see Aquaman three times in one week, he was making us laugh during his hilarious SNL hosting gig. He's funny, kind, and sexy as hell. Which is why we just have to list all the times this year that we fantasized about being Aquaman's little mermaid.
See what we did there? Not even sorry.
That time he got matching bling with his wife Lisa Bonet's ex-husband, singer Lenny Kravitz.
Because of course he's sure to have a loving and harmonious relationship with the father of his step-daughter Zoe Kravitz.
Speaking of which, we're also in love with his sweet shout-out to her for the premiere of her newest film.
Family is clearly his thing, because he posts adorable tributes to his kids regularly.
He even included his kids during his amazing "Haka" dance on the Aquaman red carpet. Be still our entire hearts and um, some other body parts.
And then, the only thing we really needed to see in order to commit to being Mrs. Khal Drago for life — Momoa as a Christmas Stripper during his recent SNL hosting gig. Extra AF.
But he also made us laugh by crashing this couple's wedding photos. A sense of humor is always appreciated in a husband.
What he does when women want a photo alone with him is pretty much perfection.
And he loves dogs. Done dinner.
We can only hope 2019 means more Momoa. Like, way more.